With the launch of the Polygon zkEVM testnet the previous year, the crypto world was offered a glimpse of seamless scaling for Ethereum. Classified as the leading EVM-equivalent zkEVM, the Polygon zkEVM has been ahead of its time ever since the beginning. With the launch of zkEVM beta Mainnet, Polygon hopes to start the revolution towards the mass adoption of Web3. Based on recent developments, the zkEVM project is expected to go live on March 27 this year. Many regard the zero-knowledge technology to be a major improvement for both blockchains and cryptography. The fundamental aim is to greatly enhance the speed of transactions, while minimizing the cost at the same time.
Roses are red 🌹
Violets are blue
Poems are hard 😩
Mainnet Beta is here

ON MARCH 27, Polygon #zkEVM launches the future of Ethereum scaling

🚢💜🚢💜https://t.co/OqSOYTn8Uv pic.twitter.com/kpXavea3ff

— Polygon (@0xPolygon) February 14, 2023
Over the previous few years, Polygon zkEVm testnets have catered to an increased interest from across the ecosystem. As a result, it has considerably upped its game by becoming better, faster, cheaper, and secure. Previously in October, the firm went live with the testnet, which is responsible for deploying ETH Virtual Machine for the ZK rollup. This inevitably allows ETH developers to shift their smart contracts from the main blockchain. It also eliminates the need to reprogram these smart contracts in a different language.
From Polygon, With Love!
Ever since the testnet went live, more than 75,000 ZK proofs have been generated. Similarly, more than 5,000 smart contracts have been deployed as well. In addition, Polygon also mentioned that it is discovering ways through which it could bring ZK technology to the main chain, the Polygon POS chain.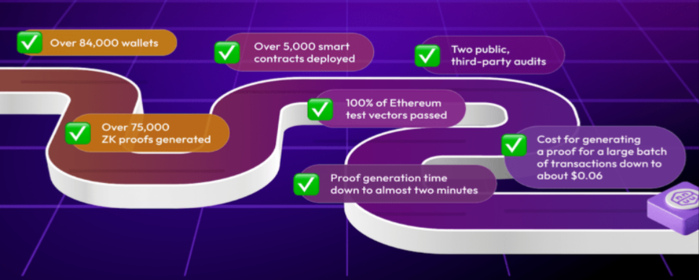 The Polygon zkEVM has been tested through actual testnet usage and through auditing. Within the next few weeks, the firm is expected to share further detailsabout the mainnet. Security is deemed to be the main focus, and this is exactly why it has been subject to a number of audits. Users and developers can set a certain threshold of expectations when it comes to transparency and security measures. When combined, these are bound to protect the ETH community during the mainnet beta.
Nonetheless, the Polygon zkEVM an be considered as a gold standard for EVM-Equivalence as it has passed 100% of the ETH test vectors. Developers would have the ease of copy-pasting code that works on ETH and use it to build a Polygon zkEVM easily. The mainnet is simply just a start to the new ventures ahead. The time where ZK innovations would revolutionize the Polygon ecosystem is not far off either.