The stablecoin market has been subject to several shocks as the crackdown of the SEC against Paxos is gearing up. The current uncertain situation is forcing a number of investors to shift to decentralized and censorship-resistant alternatives. As of now, USDT, developed by Tether, grew by almost $1 billion soon after the regulatory crackdown against its rival, BUSD. The market cap of Tether (USDT) was approximately $68.47 billion on Tuesday prior to it jumping to the $69.23 billion mark. Similarly, the market cap of BUSD declined from $16.14 billion to almost $15.46 billion. The decline follows the announcement of Paxos that it would stop minting new units of the stablecoin from next week.
The losses suffered by BUSD clearly indicate that the ones seeking stablecoin liquidity are now fleeing to Tether. The main purpose of doing so is to evade any possible regulatory crackdowns in the future. As per current data, the recent gains of Tether brings the firm's overall dominance to a whopping 50.77% in the stablecoin market. However, the entirety of the stablecoin market is worth $136.93 billion.
The Rise of Tether in Comparison to Competitors
Stablecoins like BUSD and USDT are pegged to the US dollar. These are backed up by multi-billion-dollar reserves that include cash and US T-bills. Similarly, these also come with full programmability as well as transferability of a certain crypto asset. These are defined to be the backbone of the crypto industry as investors often trade against them on different exchanges. However, amid recent developments the CEO of Binance, Changpeng Zhao has stated that soon the crypto market might shift towards non-USD stablecoins.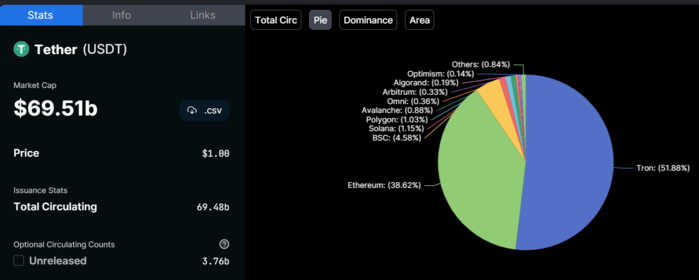 The crypto market has changed drastically ever since the collapse of FTX. The stablecoin economy was subject to great redemptions, and the 30-day statistics make it evident that the supplies of other stablecoins were greatly affected. BUSD experienced a decline of almost 6.30% after it announced it would no longer mint new tokens. USDC saw the greatest decline as the stablecoin dipped by almost 6.86%. As long as Tether is concerned, the stablecoin displayed an impressive increase of almost 4.73% since last month.
Some important factors in the success of the stablecoin market include the stability of the reserve and the issuer's ability to uphold them. The collapse of Terra (UST) in 2022 underlined this importance. It also highlighted how the stablecoin economy can be impacted by a number of external factors. However, the recent jitters for BUSD can prove to be a changing point for the stablecoin market. Being among top 3 stablecoins, the SEC's crackdown on BUSD has sent a shockwave within the crypto space.