The recent regulatory crackdown disrupted the crypto market initially, forcing numerous tokens to trade at a lower price. In a recent development, the market has brushed off these effects, leading to the rise in value of different cryptos. Some coins gained an overwhelming momentum in the crypto market including Bitcoin (BTC), Ethereum (ETH), Cardano (ADA), and many more. The positive surge of Bitcoin (BTC) can be linked with reports of favorable macroeconomic data. Along with this, several conspicuous whale movements have also contributed to the rising market.
Bitcoin (BTC) bulls are responsible for feeding gains this week as the largest cryptocurrency is pulling itself back from an extensively bearish phase. Macroeconomic tailwinds have been deemed important for improving overall sentiment regarding risk assessment. A week after losing the support line as the result of new regulations, Bitcoin (BTC) made its way back to the $23K mark. Along with BTC, several other altcoins saw a positive momentum as well.
Positive Macroeconomic Data Injects Confidence into Bitcoin (BTC) Bulls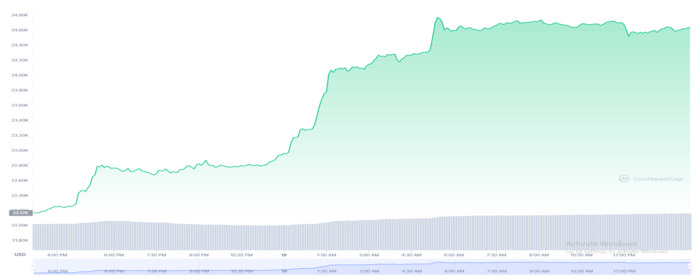 The leading crypto started this day trading at the $22K mark and rose to $22,800 within approximately 40 minutes. However, it did not stop there, as it made its way past $24,000. At the time of writing, Bitcoin (BTC) is trading for approximately $24,615, signifying an increase of 10.66% in the last 24 hours. The crypto token leads the market with a total market of $474 billion. Soon after the pump, liquidations worth $120 million were witnessed in the crypto space. A majority of these liquidations occurred on Bitcoin and Ether trades. More than 28,000 traders were recorded to be liquidated within the previous 24 hours. However, the largest liquidation that took place on Bybit BTC/USD trade was worth $2.54 million.
Bitcoin bulls started to gain momentum as encouraging data started to flow in the Consumer Price Index (CPI) reports. CPI can simply be classified as a volatility triggering index for both stocks and crypto. Despite a slower response this time, the end result was no different from the rest either. Increased retail sales and manufacturing numbers then played a role in boosting the outlook.
Analysts believe that the unemployment data will have an impact on the market. If it meets the overall expectations, it would make it seem evident that the FED's policies are working. This would also suggest that a turnaround might come much sooner than expected. As of now, Bitcoin (BTC) is currently rising alongside the US dollar. Despite being traditionally negatively correlated, both of them are benefitting from the current situation.