The crypto market now comprises of hundreds of cryptocurrencies. Each one of them is distinctive in its nature and features. The project running behind every single one of these cryptocurrencies is probably the most decisive factor for the success of the coin. However, the market is not only limited to the giants, like Bitcoin and Ethereum. There are altcoins that offer a higher profit margin for traders, and their low prices offer low-scale investors with an opportunity to make their initial investments count.
The rise of SLP
Small Love Potion (SLP) is one such digital coin that has been in the limelight among the trading community. Recently, it made the headlines by experiencing a massive upsurge of its value. The price of SLP saw a rise of 100%, doubling its worth. SLP is a token that is mined through gameplay and is rewarded to the users. It is a token in the Axie Infinity ecosystem, and thus AXS also has a connection with the token.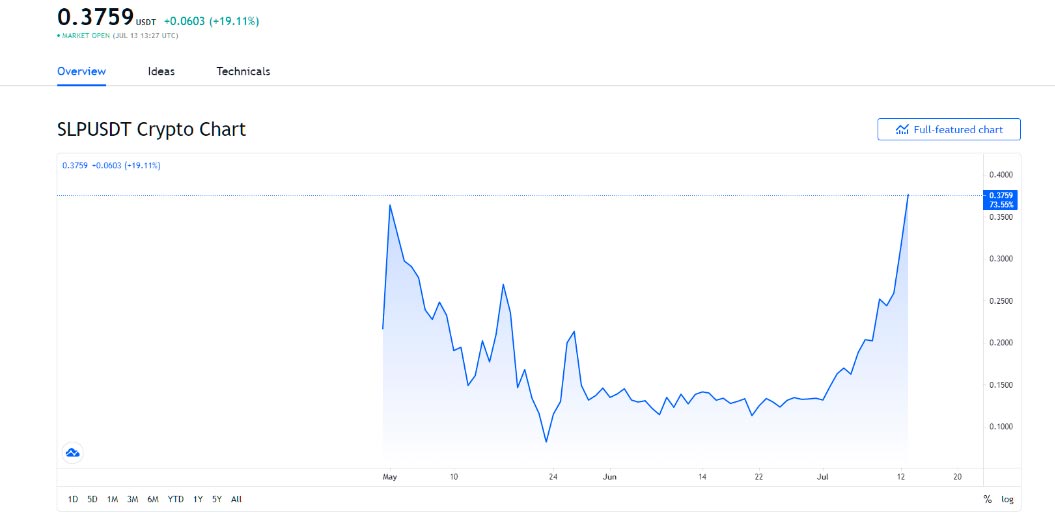 SLP has multiple use cases, making it a popular token amongst the public sectors. Most prominently, it can be used as a form of currency to breed non-fungible tokens, Axies, from the Axie Infinity World. In a recent development, the value of AXS experienced a parabolic run over the last week. It prompted an increase in the worth of  the token which was now able to touch new all-time highs of over $19.80.
As a result, the price of SLP surged from $0.127 to over $0.350. It accounts for an increase of more that 100% for the token. Currently, SLP is being traded at a price of around $0.3759. SLP has attracted a high trading volume since its upsurge. It has also driven the revenue generation of the Axe Infinity ecosystem to new all-time highs.
Axe Infinity is gaining more public recognition and admiration since the last week, mainly because of the positive results it has fetched. Many users are adopting the Ethereum-based protocol. These new users will prove crucial in providing the desired level of stability to the network. Axe Infinity has attracted tonnes of users from countries like the Philippines, Qatar, Cuba, and the United Arab Emirates. The increase in interest of users from these countries is because Gameplay provides its users with a constant daily income. The citizens of these countries usually struggle financially, thus, Gameplay provides new opportunities to them.