The cryptocurrency market has grown to become a trillion dollar industry within a few years only. The high profit potential and upsurge in the values of top crypto tokens, like Bitcoin and Ethereum has attracted investors from all over the world to test their luck in the crypto realm. Since the start of the pandemic, the crypto market proved to be a very viable source of income for many people. Hence, pulling them out of the financial adversities.
During this one year or so, the crypto market became rather universal and its high trading volume continued to provide more and more opportunities to the users. However, the market has struggled in the last few months. What started off as a record breaking year for various cryptocurrencies has turned out to be a haunting dream since the end of the first quarter. In the recent market updates the prices of different cryptocurrencies have continued to fell.
Latest Price Updates
The world's top most cryptocurrency, Bitcoin has struggled between the range of $30,000-$40,000. Even though this is still high from the point it started this year but it is considerably low from its all-time high of over $64,000 in May this year. After a staging a slight recovery, Bitcoin has fell again, closing the gap from a crucial support level of $30,000. Bitcoin fell below $32,000, and is currently traded at around $31,950.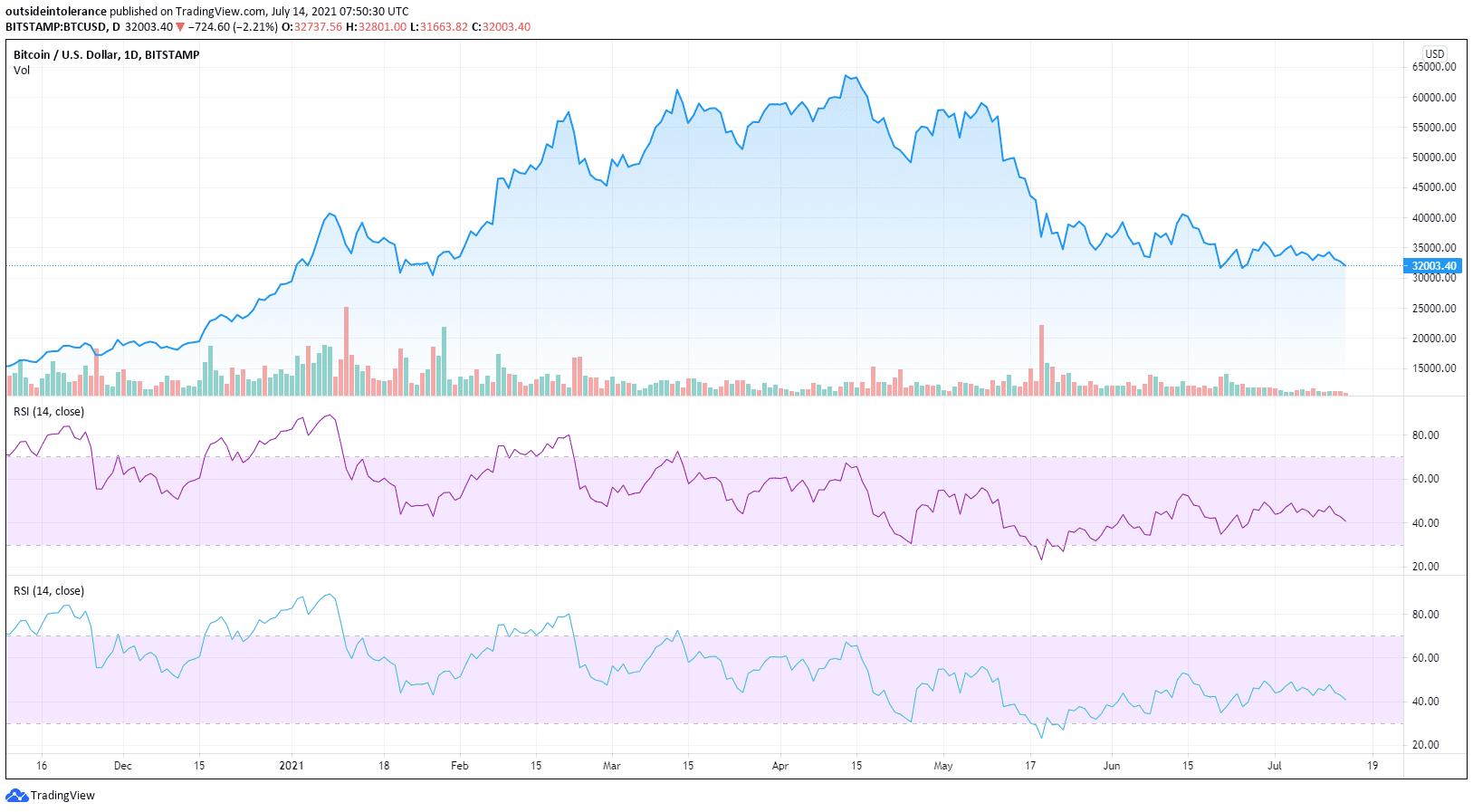 On the other hand, the second-largest cryptocurrency, Ethereum fell further below. It crashed through the crucial level of $2,000. It retested the support levels and is currently traded at $1,900. Ether has suffered from a decline of over 7%, and its current price is less than 50% of its all-time high. A few days back, Ethereum was positioned to challenge the supremacy of Bitcoin, however, the recent degradation has shown that the crypto market is still in a phase of correction.
Other renowned digital coins that fell include, Cardano, Ripple, Dogecoin, Uniswap, and so on. The trading volume of major cryptocurrencies has fell by a staggering 40% in the month of June. This is majorly because of the Chinese crackdown, and other underwhelming news surrounding the crypto market. The investors and traders have stayed rather cautious while making trades and investments because of the persisting instability. The outflows from the crypto market has also increased, proving that the users are still not entrusting their funds in the market for a longer run.