Bitcoin and Ethereum are the two undisputed leaders of the crypto market. The former is miles ahead the latter in terms of worth and even history. However, both of them have kept a daylight of a difference with the rest of the crypto lot. They have also helped in making crypto more popular and widely recognized across different parts of the world. These two are normalizing the concept of crypto to the global community.
Bitcoin and Ethereum, both have experienced highly fluctuating prices in the last few months or so. They have not only gone through the phases of upsurge but have also toiled back at times. This is primarily because of the uncertainty and unpredictability of the crypto market that makes it an exciting prospect for the investing lot.
Bitcoin breaks out from a tight range
After reaching a record $64,000 in the first quarter of this year, Bitcoin fell significantly to as low as $28K. However, after almost three months of constantly mingling in the range of $30,000-$40,000, Bitcoin has finally exploded out, answering all its critics. Over the course of last week, Bitcoin made significant gains, and for the first time since May, it reached over the mark of $45,000 for a brief period of time.
On Monday, however, Bitcoin slightly traced back for about 3%, falling to almost $43,500. Nonetheless, at the time of reporting, Bitcoin is again making its way to the top, and is almost touching the $45,000 mark. This is a major positive sign for Bitcoin and crypto enthusiasts, as the market is finally forming a bullish sentiment, after weeks of constantly crashing.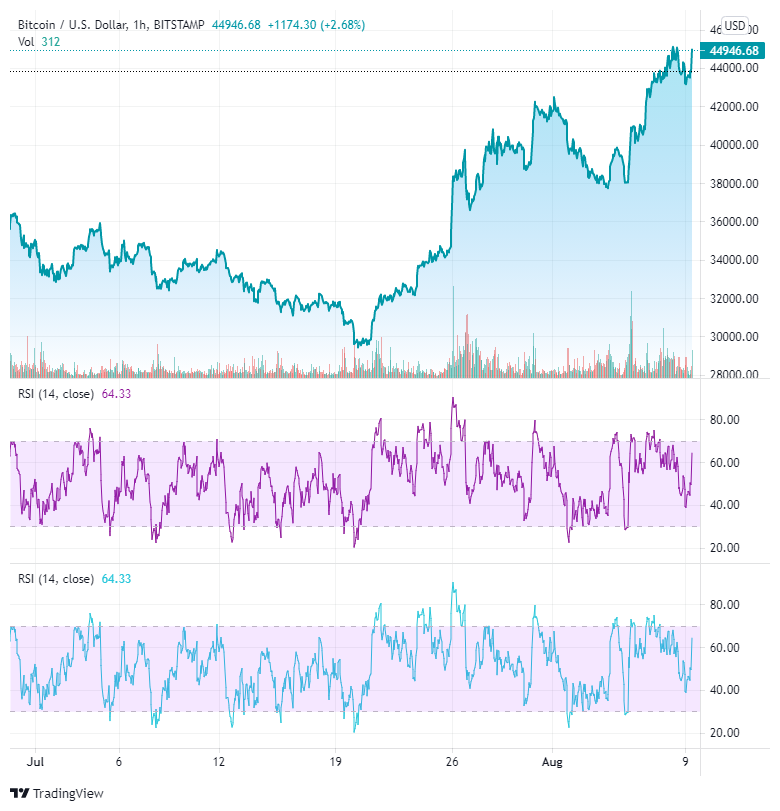 Ethereum moves past $3,000
On the other hand, Ethereum also moved closer to $3,200 over the weekend. This bullish sentiment of Ethereum was propelled by its recent EIP 1559 upgradation which is also known as London Hard Fork. The upgrade will result in the burning of ETH for every transaction. As a result, the supply of Ether will get limited, positively influencing the price of Ethereum in the longer run.
On Monday, Ethereum pulled back to almost $2,800. However, at the time of the writing Ethereum is again over the $3,100 mark. This is a major positive sign for the topnotch altcoin for the crypto market. It is yet to be seen how the market fares in the upcoming days, and if this bullish trend continues or not.