Do Kwon, the founder of Terraform Labs, has been issued a warrant for his arrest by a court in South Korea. This development marks an escalation of the investigation into the cryptocurrency ecosystem, the value of which dropped by $60 billion over a few days at the beginning of this year.
It was announced on Wednesday (September 14) by a spokeswoman for the prosecutors that an arrest warrant has been issued for a total of six persons, one of whom is named Do Kwon, who are now living in Singapore. The spokesperson did not elaborate on the grounds for the warrant.
Due to the collapse of the Terra platform in May, users of both UST and its sister coin LUNA suffered losses of around $60 billion.

UST, a contentious stablecoin that was supposed to be tied at 1:1 to the U.S. dollar, decoupled from its target price in the middle of May, which caused a larger cryptocurrency sell-off from which the digital asset industry has not yet fully recovered.
Kwon has said before in an interview that he has not been contacted by South Korean prosecutors and that he has not been charged with anything, even though law enforcement is preventing his staff from leaving the country.
Given that he had never been in communication with the investigators, concluding this matter is not exactly easy, according to him. In the video interview, Kwon said that they have never accused us of doing anything wrong.
LUNC Price Affected By The News
LUNA, the new token of the revitalized ecosystem, fell as much as 48.4 percent to $2.23 before rebounding marginally.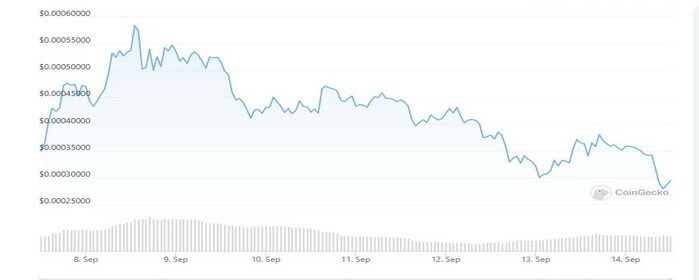 You can see that on September 8th, LUNC was rejected at the price of $0.000593. The subsequent lower highs in Terra Luna Classic (LUNC) might be an indication that the bulls are momentarily losing power.
When viewed through the lens of technical analysis, however, Terra Luna Classic doesn't seem to be behaving in any particularly out-of-the-ordinary ways.
All of the warning indications that LUNC was overbought were there long before it finally broke down below its 20-day moving average.