The Busan Metropolitan City government and Huobi Korea have signed a Memorandum of Understanding (MoU), under which the cryptocurrency exchange will cooperate closely with the city to grow its blockchain sector and further its goal of becoming a major hub for digital assets.
Huobi is the first digital asset exchange with a physical presence in Korea to collaborate with the Busan Metropolitan City government in blockchain development. The crypto exchange has been operating in South Korea through a local office since 2019, where it is governed by a license granted by the Korean Financial Services Commission last year.
Huobi Global enters an agreement with Busan City
The agreement includes the provision of R&D, technological, and financial assistance for the Busan Digital Currency Exchange, as well as the hiring of international blockchain expertise for the Busan local exchange, according to Huobi Global on Twitter.
👏BIG News!

Today, @HuobiGlobal signed an agreement with the city of #Busan to help foster #blockchain industry growth. We pledge R&D, technology, and financial support to the Busan Digital Currency Exchange, as well as help, attract global blockchain talent. #korea #crypto pic.twitter.com/3xU7OBGZjq

— Huobi (@HuobiGlobal) September 14, 2022
Huobi Korea CEO Junyong Choi cited the expertise of Huobi Research Institute and Huobi Academy as a major factor in the company's current commercial ties and interactions with participants in the Korean blockchain ecosystem.
Speaking on the agreement, Junyong Choi expressed his excitement about working with Busan to make it a center for digital assets throughout the world. He said in a statement:
 "We believe that Busan has strong attributes for fostering innovation and growth, and share their belief that blockchain technologies can transform and benefit traditional industries. We look forward to leveraging our expertise and experience to grow blockchain adoption in the city and across the region."
Busan's mayor, Heong-Joon Park, expressed his delight at the city's decision to work with Huobi to promote the development of its blockchain ecosystem. He thinks that Busan provides a favorable atmosphere for the development of the most cutting-edge digital financial innovations, which have drawn many blockchain startups from all over the world.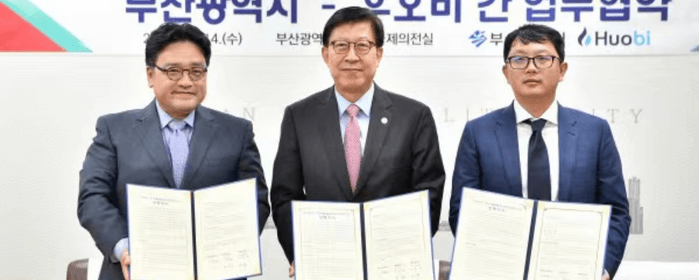 "I hope Huobi will spread the word on Busan's strong environment and support for digital finance so that we can draw more blockchain talent to our city," he concluded.
According to them, Huobi will be the main sponsor for Busan Blockchain Week 2022, which will begin on October 27. Potential partners are encouraged to interact with Huobi at its exhibit.
Busan pushing hard for its blockchain plans
In addition to signing an MOU with Busan City, Binance, the largest cryptocurrency exchange by trading volume, and FTX both announced that they will open offices there to support the development of the city's blockchain ecosystem.