XRP and Litecoin (LTC) are two of the most popular cryptocurrencies in the market, and they have recently seen a surge in demand from investors. According to a report by CoinShares, a crypto asset manager, XRP and Litecoin (LTC) saw inflows of $0.5 million and $0.46 million respectively in the past week. In comparison, Bitcoin (BTC) and Ethereum (ETH) experienced outflows of $111 million and $6 million respectively.
Despite Regulatory Concerns XRP and LTC Have Become Popular Alternatives for the Crypto Community
The report suggests that investors are diversifying their portfolios and looking for alternative cryptocurrencies that offer more potential and innovation. XRP and Litecoin (LTC) are well-established and widely used coins with loyal communities and strong use cases. 
XRP is a fast and cheap payment system that aims to facilitate cross-border transactions and compete with traditional payment networks. Litecoin (LTC) is a fork of Bitcoin that offers faster and cheaper transactions and has a higher supply limit of 84 million coins.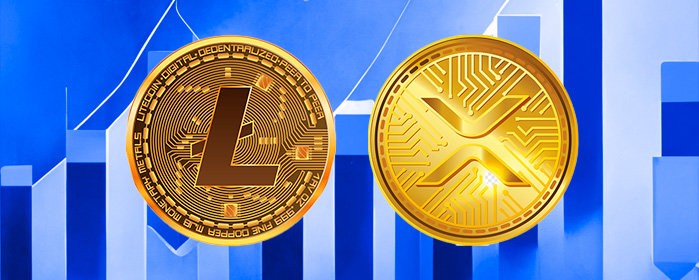 One of the possible reasons for the increased interest in XRP and Litecoin (LTC) is the recent legal developments that have improved their regulatory clarity and legitimacy. XRP, which is facing a lawsuit from the US Securities and Exchange Commission (SEC), received a favorable ruling from a judge on July 13, who determined that XRP traded on exchanges is not a security.
This boosted the confidence of XRP holders and attracted new investors who see XRP as a viable investment option. Litecoin (LTC), on the other hand, had its third halving event on August 2, which reduced the mining reward from 12.5 LTC to 6.25 LTC per block. 
This event, which occurs every four years, is expected to increase the scarcity and value of Litecoin (LTC) over time. Moreover, Litecoin (LTC) has also maintained positive network fundamentals, such as a high hashrate and difficulty, which indicate the strength and security of the network.
XRP and Litecoin (LTC) are two of the oldest and most respected cryptocurrencies in the industry, and they have proven their resilience and innovation over time. As investors seek more opportunities and diversity in the crypto market, XRP and Litecoin (LTC) may continue to see more inflows and appreciation.