The start of the year 2023 saw numerous cryptocurrencies pushing towards green after a year of trials and tribulations. The latest coin to shoot sky high is Stacks (STX), which has rallied a decent 38% gain in the last 7 days. One of the major driving forces behind this positive price momentum is the excitement around upcoming Bitcoin NFTs. There is a possibility that these NFTs might be hosted on Stacks, but there are still great concerns.
However, the main concerns currently revolve around the bullish thesis becoming a reality. Stacks is among the first blockchains that offered a way for minting Bitcoin Ordinals. As a result, it has landed itself in a superior position to greatly benefit from the hype. Unfortunately, Ordinals has brought up an issue from the past which includes the testing of Bitcoin maximalist ideologies.
Bitcoin NFTs – The Role of Stacks (STX)
These would only be tested out if the NFTs lead to an increased network congestion. Despite that, Stacks (STX) is yet to deliver the required functionalities to drive and support an NFT ecosystem. It is believed that the network is having troubles in doing so as it is facing great competition from projects on different blockchains. Thus, its ability or inability to perform the service could decide the long-term price pattern of Stack's native token, STX.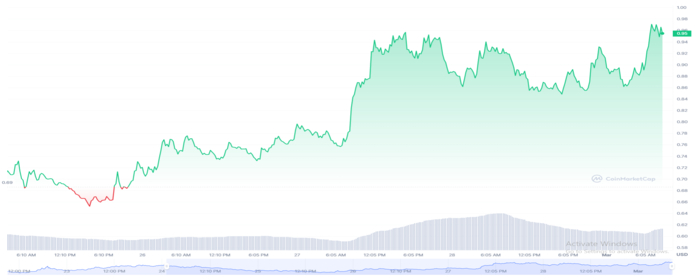 Keeping in mind how there is a possibility of the Bitcoin NFTs being hosted on the Stacks blockchain, the price of Stacks (STX) has shot up. At the time of writing, the token has jumped up by 38.73% in the last seven days and is now trading for $0.9558. At the same time, the total market cap of Stacks (STX) is approximately $1.3 billion, making it the 41st largest cryptocurrency in terms of market cap.
Many analysts suggest that the current price surge might have reached an overbought condition. Additionally, it is expected to be corrected any time soon in the next few days. Stacks Foundation also announced a new upgrade to its protocol, dubbed Stacks 2.1. With the Stacks 2.1 upgrade, users would be enabled to send Stack assets to BTC addresses. All it would do is create a proxy access to the Bitcoin blockchain without creating extra Stacks addresses. However, it is still a matter of conjecture if Bitcoin users find such a move appealing.
In addition, the BTC naming service lies in the heart of Stacks (STX), and it might generate an increased trading activity. However, it would only happen if the demand for BTC addresses shoot upwards. Currently, it is impossible for users to send and receive Bitcoin at these addresses.