The crypto market was facing huge bearish trends since the last few weeks, as the price of Bitcoin dropped to the low of $30,000. Its value was almost halved after the record set in April. However, there were a few major contributors to this decline in the market. Popular Billionaire, Elon Musk being one of the most prominent ones.
His repeated tweets hurled at Bitcoin severely damaged the performance of the coin. Many crypto geeks turned against him and held him guilty for the pump and dump trend in the market. This instability caused major inconveniences for the investing sector, and the crackdown of Chinese regulators added onto their misery.
However, in the latest development, Elon Musk tweeted and rubbished the claims of his role in igniting bitcoin pump and dump schemes. He further explained that his electric car company, Tesla will once again start accepting Bitcoin payments after the mining operations of Bitcoin will constitute of sufficient clean energy usage. Recently, Tesla disallowed Bitcoin payments citing the environmental issued posed by the mining operations of Bitcoin.
Musk was targeted and criticized in a podcast by Magda Wierzycka, who commented that the CEO of Tesla manipulates the crypto market and make profits at the peak. In response, Musk stated that 'this is not true' and added that 'Tesla only sold approximately 10% of holdings to confirm that Bitcoin could be liquidated easily without moving the market'. These comments of Musk were referred to the liquidation of Bitcoin by Tesla in the first quarter of this year, resulting in $272 million in profits.
The impact of the Tweet
However, this tweet created a positive atmosphere around the crypto market. The prices of Bitcoin jumped significantly and breached the mark of $40,000 and at the time of writing the article is trading at $ 40,250.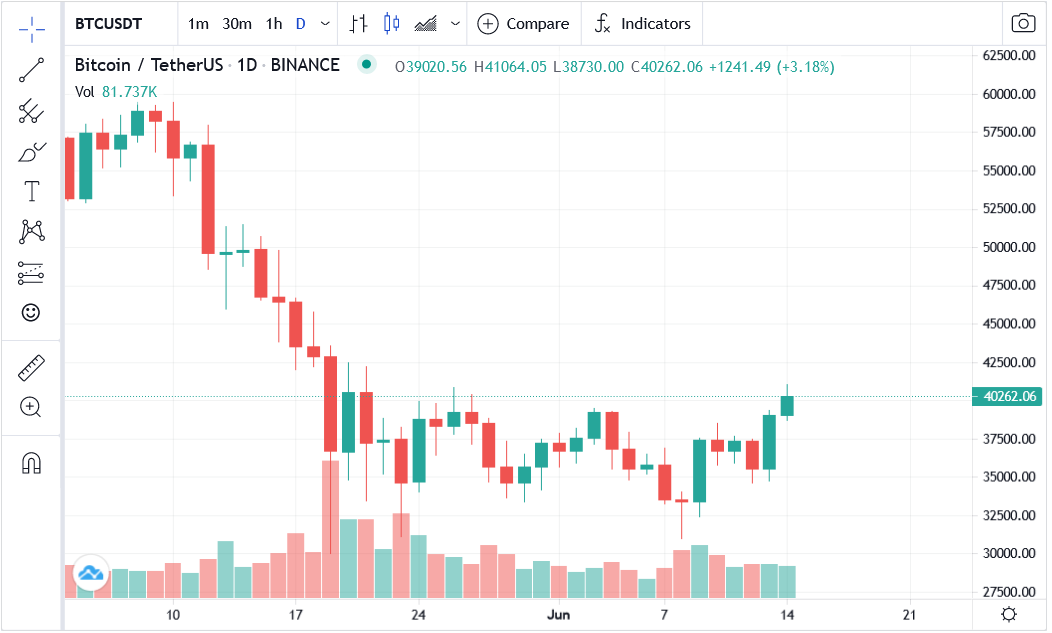 This tweet can prove to be the much needed breakthrough in the crypto market. It has been a while since Bitcoin has fared at these high values.
Following the same trend, other renowned cryptocurrencies like Cardano, Ripple and Cake have received a considerable increase in worth. Meme cryptocurrencies, like Doge and Shiba have also gone up after facing constant dips. It is yet to be seen if this is the start of a continuous bullish trend in the market or is it just a fake bullish flag for the market to go down again. Another tweet of Elon Musk can nullify any claims made at the moment as well.