After a couple of distressing weeks, the candles in the crypto market have turned green again. As a positive development in the market, several cryptocurrencies are faring at reasonably higher prices.
The largest cryptocurrency in the world, Bitcoin has now touched a two-week high by breaching the $40,000 barrier. The dominance of Bitcoin has grown by a staggering 221% within 24 hours, as it now stands at over 266%. However, the total cryptocurrency market cap experienced a decline, and is lowered to $284.36 billion. On the other hand, stable coins accumulate for a little lower than $1 billion of the entire crypto market.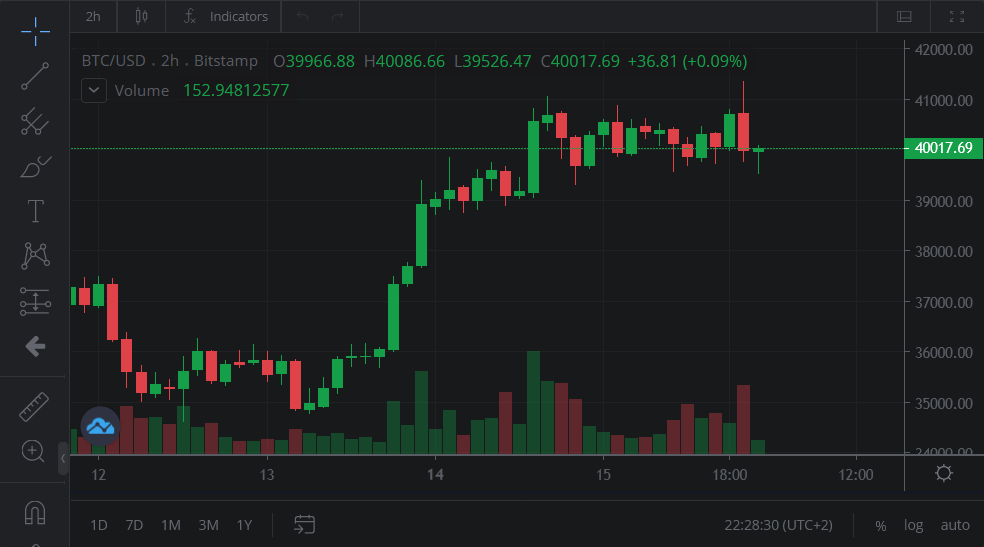 The major driving force behind this trend was another tweet from the popular Billionaire, Elon Musk. He boosted the confidence of the investing sector by citing the probability of the resumption of accepting Bitcoin as a payment method after its sustainability issues are addressed.
The crypto market was stuck in a loop of severe corrections, as the prolonged dips started to infer in the market stability. Therefore, the trend seemed to continue over the weekend as well. However, the tweets of Tesla CEO completely shifted the trends.
Market Wrap Up
Apart from Bitcoin, other cryptocurrencies also received a healthy support. Ethereum, the second most valuable and popular cryptocurrency in the world, rose by over 4% to inch closer to the $2,600 mark. Binance Coin (BNB) rose 2.3%, Cardano rose 1.7%, and Ripple rose almost 1.50%. However, Polkadot (DOT) shocked the market as it made an upsurge of almost 16%, crossing $25. Almost all of the other crypto tokens went up by different margins.
Many experts and analysts believe that this might be the much needed break for the crypto market, and might result in a reversal of downhill trends. Bitcoin rose up by almost 33% this year as it surpassed all estimates a couple of months back. But its downward trend ever since was uncalled for. However, this time it has pushed past $40,000 and it can prove to be enough for it to get right back on track. Other cryptocurrencies that are following the same trend as of Bitcoin can also gain more stability now after winning the trust of investing sector.
Tweets from Elon Musk, crackdown of Chinese regulatory authorities, and the announcement of El Salvador to accept BTC payments were developments of the last few weeks. Therefore, it is yet to be seen how the market fares in the coming weeks, and how the influential external factors impact the market as a whole.