The cryptocurrency market has experienced a rush of fluctuating trends in the last few weeks. The market sentiments have shifted their course at a highly unpredictable level. However, this is something that is expected of the crypto market, and it differentiates it with the rest of the finance sectors out there.
This year has proved to be a major rollercoaster for the crypto realm, as many crypto coins surged to an unimaginable height and then crashed significantly in the next few weeks. The bearish trend persisted in the market for a long time. Nonetheless, it appears to be changing now, as the bulls are gaining some momentum, and many digital tokens are making a move upwards.
Bitcoin and Ethereum continue to rise
Both of these tokens are known to be the two giants of the crypto market. Their market performance carries a strong influential impact on the rest of the crypto market. Therefore, while these coins were stuck in a tight range in these last few weeks, the crypto market was also struggling to map a break out. Nonetheless, both, Bitcoin and Ethereum have risen and breached their local resistance levels. It appears that they are all in to stage a further upsurge, however, this hypothesis is yet to be validated in the coming days.
Bitcoin surpassed the $45,000 mark and is set to retest the strong resistance level of $46,000. It is currently valued at almost $45,950, and if it comprehensively manages to break the resistance, then a further upsurge can be expected for the leading cryptocurrency, pushing it through the $50,000 mark.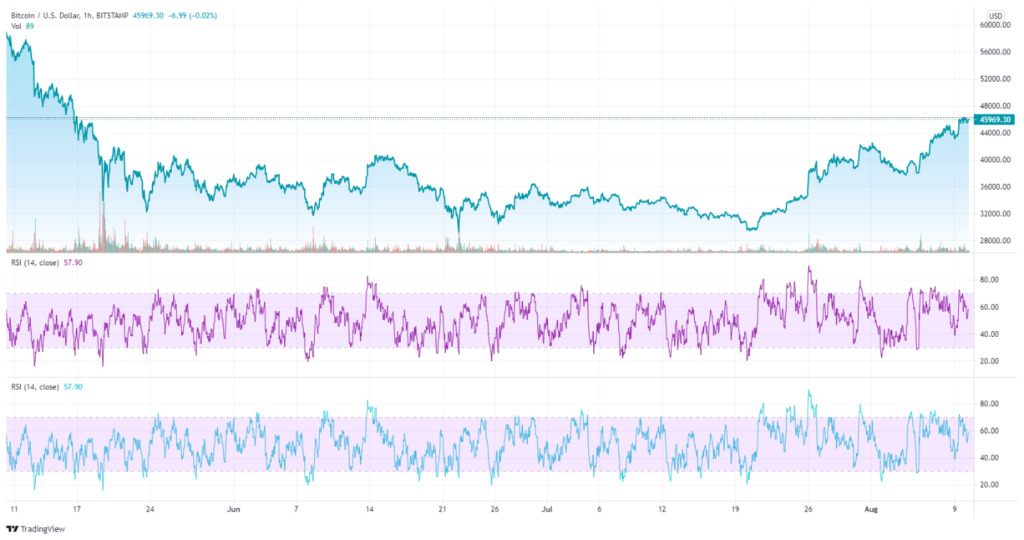 Moreover, Ethereum was also able to rise and strongly move past the $3,000 mark. It also retested the high of $3,190, however, could not completely overcome it. At the time of the writing, Ethereum is being traded around $3,140 which is still below the local resistance level.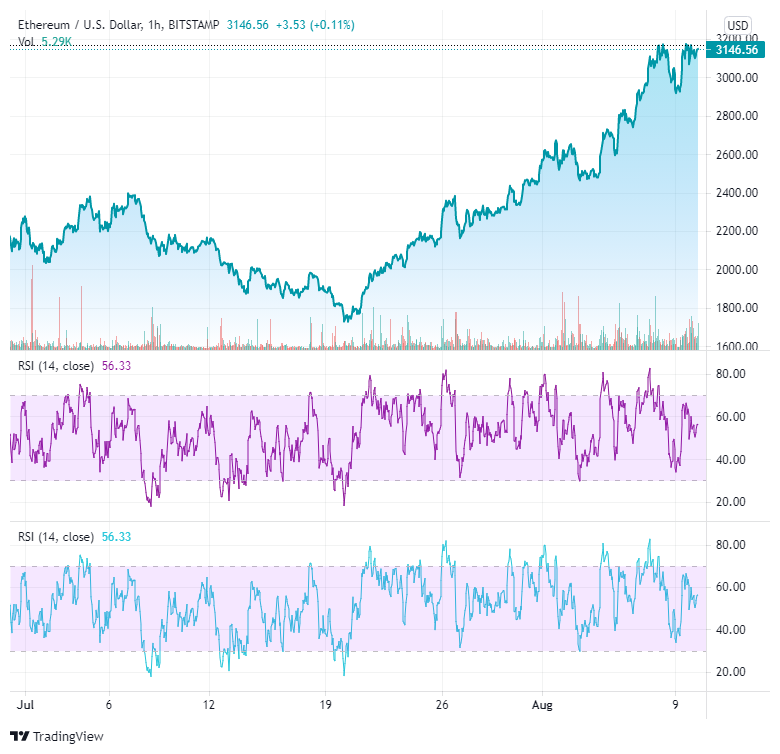 Performance of other crypto coins
Even the rest of the market has shown signs of massive improvement lately. Crypto tokens like Cardano, Ripple, and Polkadot also made some progress. However, the major shock came when the fan token of the football team, Paris Saint Germain ($PSG) made a major upsurge of over 50% in the market. This happened after the rumors circulated about Lionel Messi's potential move to PSG, after his 18-year long journey with Barcelona came to an end. If this truly happens, and Messi is presented as a PSG player anytime soon, this could massively boost the price of $PSG.