Terra, a Cosmos-based layer 1 blockchain that specializes in stablecoin transactions, has been establishing itself as a market leader in the stablecoin space for several years. 
TerraUSD (UST), an algorithmic stablecoin, was launched in late 2020. This stable coin was supposed to be worth $1.00 at all times. However, it quickly lost its intended stability and fell precipitously. Many people are wondering if Terra's UST failure signals the end of the project or if there is still hope for recovery.
Terra's protocol is powered by the LUNA token. Its primary function is to provide liquidity for trades and to keep the UST price stable. Users can stake their tokens in order to provide liquidity for traders while also earning rewards. The Terra protocol also uses this liquidity to keep the price of UST constant at $1.00, just as expected.
However, this system failed and allowed the price of UST to drop to $0.30, and currently at around $0.6 according to Coinmarketcap data.
A few large UST withdrawals were made during the first few weeks of May 2022. This UST sale increased supply, lowering its price, which caused many people to become fearful and sold when the price fell slightly below $1.00. 
This reduced the price even further, as Terra began burning UST and minting LUNA tokens to combat this.  Because the system had a limit on how much UST could be burned, the stable coin began to plummet once that limit was reached.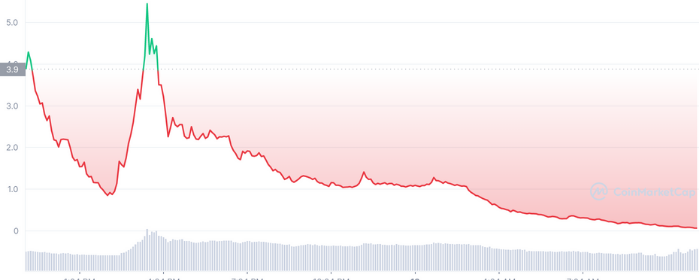 The shocking thing about LUNA is that it reached an all-time high of $119.18 just over a month ago and has since lost over 95 percent, making it one of the fastest declines in the cryptocurrency space, with over $37.4 billion in market capitalization wiped out in less than five weeks.
As Twitter continues to burn for various types of tweets, most people have "FOMO" a month ago and are now full of regrets. It appears that the majority of them believe the coin will not regain its former position.
Last month I sold my car and I wanted to get my money in bank but one of my friends advised me that crypto investment is better and told me to buy Terra luna worth $4200 and holdfor at least one year
Yesterday I opened my wallet and i was about to faint#LunarCrush #Cryptocrash pic.twitter.com/DmvEEgsMmX

— Sir Jerry (@jeremiahkarume_) May 12, 2022
The recovery path
According to Coinmarketcap, the price of Luna has dropped to around $0.04 at the time of writing, representing a 97 percent drop. The reason for this is unknown, but Do Kwon, Terra's CEO, broke his silence and addressed the Terra Community in a Twitter thread.
2/ I understand the last 72 hours have been extremely tough on all of you – know that I am resolved to work with every one of you to weather this crisis, and we will build our way out of this.

Together.

— Do Kwon 🌕 (@stablekwon) May 11, 2022
Kwon promised that as UST is rebuilt, its collateralization mechanism will be adjusted, and he ended his thread by attempting to reassure the Terra community.
He said that the Terra ecosystem is one of the most vibrant in the crypto industry, with hundreds of passionate teams building category-defining applications within.
"As long as these builders, TFL among them, continue to build – we will come out of this together," he concluded.