As Bitcoin (BTC) continues to make a statement in the market, many investors and traders have set their eyes on making profitable trades. The stance of consumers is becoming quite bullish towards Bitcoin which is why the Fear and Greed index has achieved the highest level this year. These levels were not seen since Bitcoin (BTC) posted its all-time high in November 2021. The index showed a score of 66, landing itself in the Greed territory and showing the investor's inclination towards Bitcoin (BTC),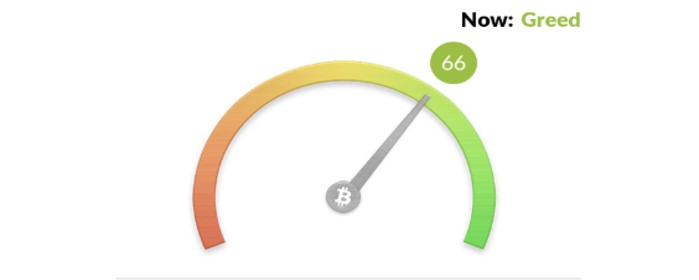 The Fear and Greed index aspires to represent current emotions and sentiments towards Bitcoin and the rest of the cryptocurrency market. The last time the index was recorded to be over 66 was right after Bitcoin (BTC) crossed the $69k mark. Furthermore, the overall sentiment around Bitcoin (BTC) has been bullish since the collapse of the Silicon Valley Bank. Since then, the banking sector has been subject to great uncertainty, with the masses shifting towards digital assets.
Bitcoin (BTC) Continues Its Leap
Bitcoin (BTC) has gained a decent 27.8% over the previous 7 days, pushing the price past the $28k mark for the first time since June 2022. Currently, Bitcoin (BTC) is trading for approximately $27,932, and has a total market cap of $539 billion.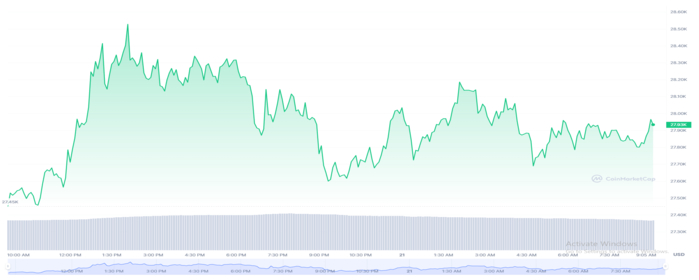 In other news, Glassnode also expressed its take on the situation of the market. It stated that BTC investors experienced one of the strongest weekly gains amid increased stress, and liquidity injections in the banking sector. A number of on-chain indicators suggest that the market is transitioning out of conditions associated with deep bear markets.
On-chain adoption is accelerating considerably higher, and a great percentage of coin holders remain firm-handed. A number of smaller investors have displayed the tendency to be motivated to take profits out of the ongoing rally. This highlights great strength, coupled with belief regarding the important role of Bitcoin (BTC) in the future of the financial system.
With more adoption, the BTC network is facing more congestion leading to an increased pressure on transaction fees. However, this is a boost for the network as it leads to a more constructive market in the longer run. In addition, it has also led to an increase in mining revenues for previously struggling mining firms. Many indicators, tools, and experts are bullish for the leading crypto token which is also a catalyst for the Fear and Greed Index.