Ripple shook the crypto market with a sharp rise in its price on Tuesday. The coin gained pace as investors and traders continued to put their faith behind Ripple in its case against the Securities and Exchange Commission (SEC). The case began in 2020 when the SEC alleged that Ripple raised more than $1.3 Billion via unregistered digital asset securities offering.
Since then, Ripple and the SEC are in an ongoing legal battle with each other. However, recent developments indicate that the case is heading towards a conclusion that might benefit the crypto firm.
As a result, investors have rushed into pouring funds in XRP. The coin touched a high of over $0.49 on Tuesday but now it has consolidated back to $0.45. Nevertheless, the coin has gained 16.21% over the past 24 hours. Ripple (XRP) is currently ranked 6th with a market cap of over $23.06 Billion in the list of top cryptocurrencies by market cap.
The price action of XRP was supported by the positive momentum of Bitcoin (BTC) and Ethereum (ETH). BTC has crossed $28K and ETH is moving around the $1,800 mark. Moreover, the XRP ledger has also posted significant growth despite uncertain macroeconomic factors. This has led to an increasing positivity around Ripple.
5/ ~Feature Set

XRPL's feature set includes its Issued Currencies (IOUs), creating functionality for multiple assets.

Authorized Trust Lines, enabling issuers to choose which wallets can interact with their tokens.

And a central limit order book, supporting low-liquidity IOUs.

— Messari (@MessariCrypto) March 21, 2023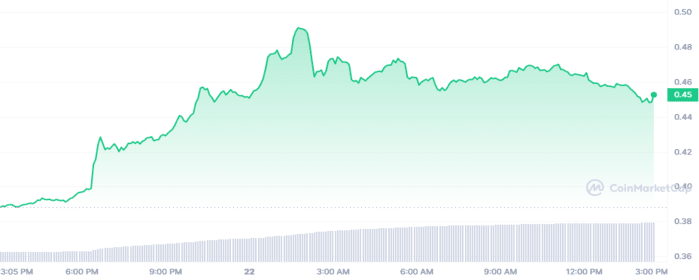 Latest Developments in Ripple Vs. SEC
The crux of the case is whether XRP is a security or not. The District Court Judge, Analisa Torres refuted some comments of experts in the summary judgement. Patrick Doody was invited by the SEC, however, Doody's comments were disregarded by the court. The Ripple community believes it to be a major positive sign for the firm in the case.
Furthermore, the CEO of Ripple, Brad Garlinghouse said in mid-March that Ripple is in a strong financial position. The firm also partnered with the UK's renowned non-profit organization, GOSH. These factors suggest that the crypto firm is in a strong position. and it has a solid case against the SEC.
The case is also incredibly significant for the entire crypto market, as it will decide the future role of regulatory authorities like the SEC in the crypto space. Currently, experts and analysts are sliding in Ripple's favor as they expect the case to end soon. This historic case's ending will be a major point for Ripple (XRP), and the overall crypto community.