Evan Van Ness, a famous Ethereum discloser, highlighted the Cardano blockchain in one of his tweets, calling it a "zombiechain," referring to a new low number of transactions on the network and even comparing it to Uniswap, which, according to him, makes far more transactions than Cardano.
In his review of the two networks, he claims that Uniswap "does substantially more transactions than Cardano," in addition to Cardano's lower-than-one transaction per second rate.
Evan Van Ness Calls Cardano Chain a "Zombiechain"
The information he presented shows that Cardano is valued at $20 billion, whereas Uniswap is valued at $6 billion. He believes, however, that the value does not assist ADA in generating even half the revenues that Uniswap generates.
"Uniswap does over $1,000,000 in daily fees," according to Evan Van Ness. "Cardano struggles to hit $10,000 in daily fees."
He also stated that the network's "centralised" structure and empty blocks are the sole reasons its low cost is achievable. It is difficult to say with certainty whether Cardano is more centrally controlled than Ethereum, he claimed.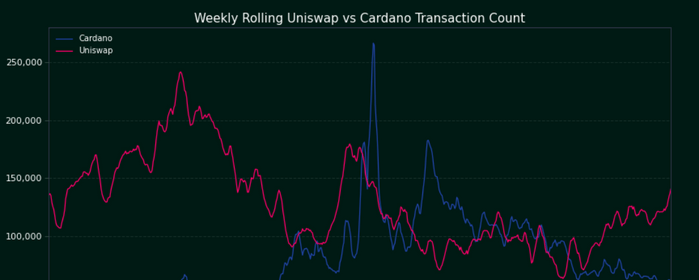 It is true that Cardano typically aims to provide users with a more inexpensive and scalable experience, but Ethereum-based applications may offer highly costly transactions when the blockchain is experiencing high transaction volume.
The Ethereum maximalist said Cardano is inexpensive to use because it is a controlled DPOS chain with a large percentage of empty blocks. He asserts that they are still unable to generate any activity.
"Arguably $ADA whales should spam the chain just so it's not obviously such a zombie chain," according to him.
In addition, he said that ADAbots claim that each Cardano transaction contains numerous transactions, although this isn't supported by the data.
While the ADA ratio is 3, the BTC ratio of transfers/transactions is 2.7. He believes that this is hardly significant when one is comparing a memecoin to a supposed "smart contract" chain.
Similarly, the disclorser claims that despite having a market valuation of $15,000,000,000, the ADA cryptocurrency has never consistently had more than 1 transaction per second of usage and that he well understands why so many people believe "crypto" is a scam.