The cryptocurrency market comprises several thousand crypto tokens. These tokens are distinctive in nature. Each of them has different valuations, and their profit potential depends on their use cases and fundamentals. However, reliable projects always attract more attention from the investing sector.
They seem to be a more safe and more sustainable option for the investing community. This is why these coins experience high prices as compared to the others. Recently, a similar coin was launched by the Bored Ape Yacht club with the name of ApeCoin.
The Bored Ape Yacht Club is a popular NFT project with thousands of NFTs. These NFTs have been sold for millions of dollars. Therefore, the project has earned a reputation in the market. Now, the project has launched its crypto coin, ApeCoin. Since its initiation, ApeCoin has surged at a fast pace. With the fear of missing out on a project with great fundamentals, the crypto community has shown immense interest in the coin.
ApeCoin airdrop to BAYC NFT Holders
After going live, ApeCoin has gone up by a massive 1,400%. The coin is currently valued at over $13. The coin peaked just below the $14 mark. The anticipation around the coin is showing its result, as more and more people are talking about the hyped coin. Moreover, these ApeCoin tokens were also airdropped to the holders of BAYC NFT. These holders had the option to claim these tokens for free.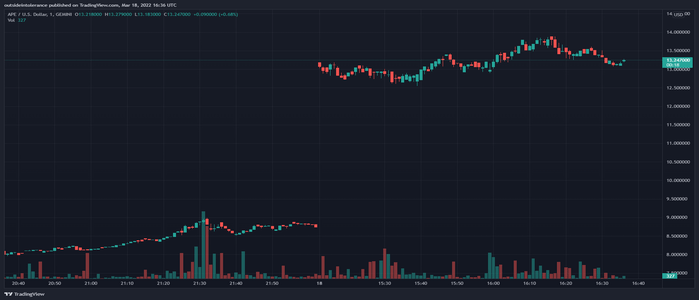 BAYC NFT holders owned these coins, and they could sell or hold them as per their own will. Other consumers could get their hands on the token when it goes live on the crypto market. Several consumers that already own ApeCoin have made considerable gains over the coin. One BAYC NFT holder amassed $90,000 from the airdropped coins. Another holder made almost $75,000 from the tokens.
ApeCoin was launched by ApeCoin DAO (Decentralized Autonomous Organization). The project is separated from the Yuga Labs which is the creator of Bored Ape Yacht Club. Nonetheless, Yuga Labs has announced that it will adopt ApeCoin as its native token to support the BAYC network and ecosystem.
The NFT sector has gained immense potential in the last year or so. This is why consumers have shown more interest in coins and tokens that are backed by credible NFT projects. Moreover, ApeCoin is also expected to become more popular among the crypto community in the coming days.