For every blockchain or crypto project, transaction fees carry an incredibly significant position. As it is one of those features that proves critical in attracting users on the platform, and differentiates the network from its competitors.
Ethereum is arguably the most popular blockchain in the crypto industry. However, it is often criticized for its sky-rocketing gas fees. It is one of the most significant reasons that the crypto community continues to express its reservations to the Ethereum blockchain.
A transactional error and the return of excess Ether
In a recent development, a hardware wallet paid almost $22.5 million in Ether in a transaction that was carried on the Ethereum network. This transaction immediately turned so many heads to itself. However, what followed will surely increase the faith of the crypto community on trustless networks.
The hardware wallet deposited the sum on the decentralized exchange DeversiFi. It also paid a staggering gas fee at the time of the transaction. The transaction was completed on September 27 at 11:10 GMT. The details of the transaction can be seen in the screenshot below.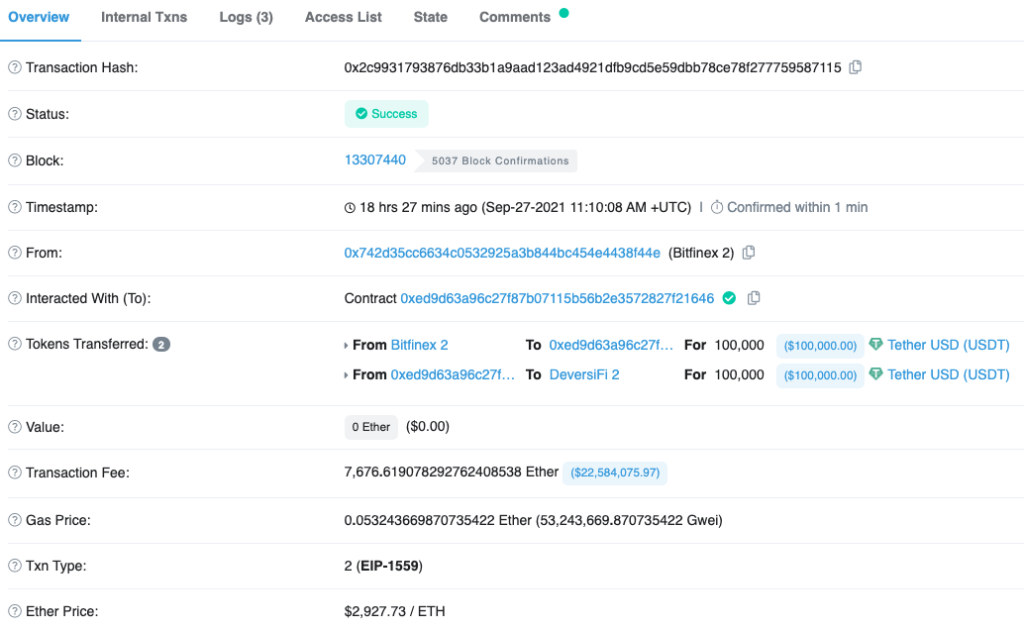 Moreover, the platform stated that the event happened because of an internal issue, and they are looking into it. They claimed that no customer funds were deterred because of this transaction. After almost 7 hours of the transaction, the miner returned almost 7385 Ether out of the 7676 that were initially sent. These 7385 Ether account for almost $21.5 million. The amount was returned to the same Bitfinex wallet that had accidently paid the excess fee in the first place.
At this occasion, the CTO of Bitfinex and Tether, Paolo Ardoino tweeted that, 'No user will be affected. Deversifi already confirmed that they will take care of it. And worst case scenario Finex will take care of it with it's company funds. No user will be affected whatsoever.'
This tweet from Ardoino came as a reassurance to the customers and users of the platform, and was surely a confidence booster for the worried users. However, neither DeversiFi not Bitfinex had to suffer from the worst case scenario. The miner returned the funds themselves in a single transaction to the parent wallet, and made it easier for everyone involved. Events like these have the tendency to bring down a company or platform on its own because the miner was not responsible to return the funds back. However, the actions of the miner came as a sigh of relief for the crypto community.