Currently, the crypto market is going through a relatively dark phase. Major crypto coins, like Bitcoin and Ethereum have crashed. There are several reasons that have prompted this bearish trend in the market. However, in these uncertain times Automata (ATA), a relatively new crypto token has rocketed the world of cryptocurrency.
Automata is a fairly new crypto token, so very little is known about it. Crypto experts and analysts are still studying and finding about the network of ATA for better analysis.
Listing on world's top cryptocurrency exchange
ATA was listed on Binance and it immediately saw a complete overhaul of fortune. Binance is listed as the top cryptocurrency exchange in the world. Thus, ATA's listing obviously mentioned that the token will reach new heights. Upon its launch, ATA stood at $0.04139. However, it saw a staggering rise of 10,772% and reached an all-time high of $4.5. The high was short-lived as the token stalled back and settled around the mark of $1.6. However, as of Tuesday, it further went down and is currently at $1.13.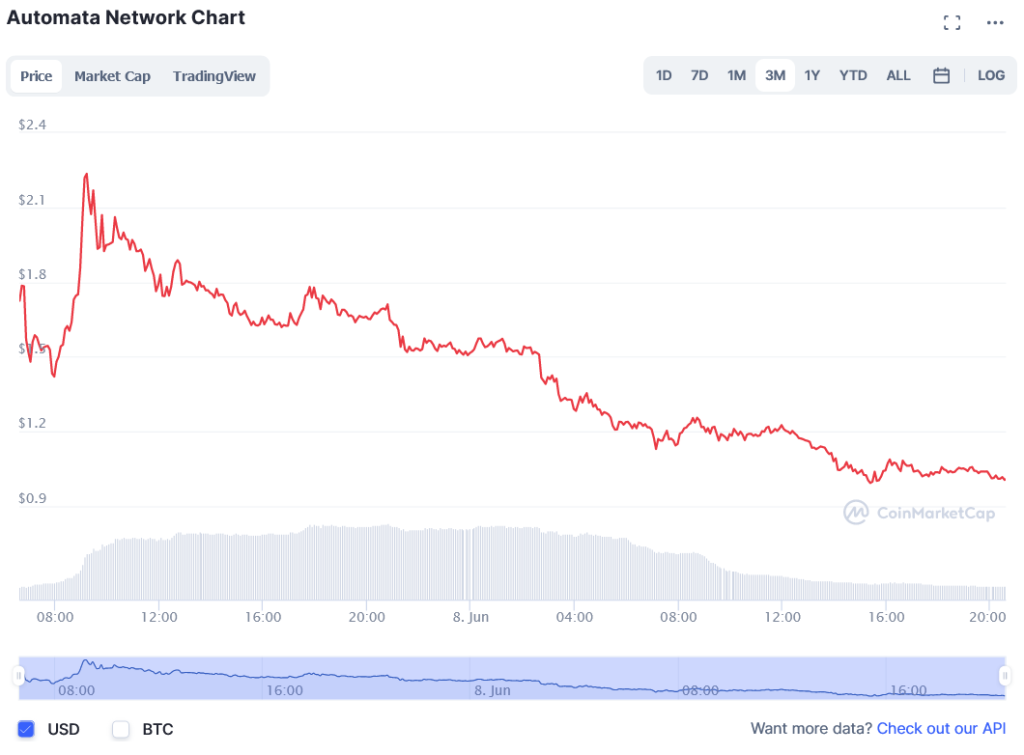 The coin showed signs of extreme volatility, even by the standards of the unpredictable crypto market. Even though, its value is gradually decreasing now, it is significantly high from where it started. Automata has gone down by more than 200% since its upsurge. However, the crypto market itself has gone down in the last 24 hours, with Bitcoin struggling around the $32,000 mark. Automata topped the gainers chart and was also the most searched crypto token upon its listing on Binance.
Whenever a crypto token is launched on a new and more reputable exchange, it often experiences an upsurge in its value. It may not be as staggering as ATA's but it still is something. It was also observed when Shiba Inu (SHIB) was listed on Binance a few weeks ago. Its price went up but gradually declined after that. Safemoon and Elongate are other such examples which went extremely high after their listing on a new cryptocurrency exchange.
Automata has a strong project and skilled team of developers behind it. Binance also offered ATA as a reward to those who staked BNB. Thus, it shows that ATA is gaining more recognition with time. A few experts have predicted that ATA can be a highly profitable long-term investment. It has the potential to grown beyond the $50 mark. However, this will take a few years. Nonetheless, people who got their hands on ATA on time have recently enjoyed huge profits.