As per a recent development, Mastercard and Immersve have joined hands to enable cryptocurrency transactions. The new venture would allow customers to make payments using crypto in outlets that accept Mastercard. The US dollar pegged stablecoin USDC would be used for settling these payments. Similarly, the venture with Immersve marks the transition of the payment giant into the world of web3. It would become possible for users to access the new feature through the use of renowned web3 wallets.
Over time, Mastercard has been a part of a number of crypto partnerships in an effort to stay true to the crypto ecosystem. An example of these initiatives is Mastercard's partnership with Binance to launch a prepaid card. Furthermore, one of the fundamental goals of the Mastercard network is to offer the best of web3's technology. In addition, this would be done at the same time as offering more traditional guardrails for the users.
Mastercard Continues to Enhance the Crypto Offering
As web2 and web3 technologies continue to converge, Mastercard stays true to its ideology of partnering with similar minded organizations. The partnership with Immersve would play a great role in scaling and securing the blockchain ecosystem. As a result, it would be secure, simple, and easy to use by billions of users.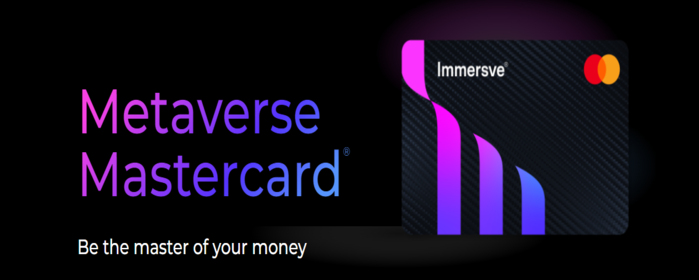 Immersve is a New Zealand based web3 innovator that uses decentralized protocols to bridge web2 and web3 applications. The firm would team up with Mastercard to address several issues regarding online fraud detection, blockchain analytics, and much more. Similarly, it would leverage Mastercard Identity Services and CipherTrace solutions. This means that it would help users click the Immersve button from any web3 wallet.
Jerome Faury, CEO at Immersve said,
"We love the fact that our platform supports both centralized crypto payments and decentralized experiences, to enable individuals to become the master of their money. Immersve is literally building bridges that make it possible for individuals to transact directly from their crypto wallet, anywhere Mastercard is accepted online."
Mastercard developed and maintained keen interest in digital assets over time. In early 2021, Mastercard made its plans of supporting the crypto public sector. By the end of the same year, the firm dismissed the regulatory issues Binance faced at that time. Similarly, throughout the entirety of the crypto winter in 2022, Mastercard worked diligently to bridge the gap between digital assets and TradeFi. This was done mainly by working simultaneously with both banks and crypto firms.
It is necessary to keep in mind that the solution of Immersive does not require the assets of users to be held as collateral. It suggests that users would maintain their control over their digital currency. Similarly, when making payments, USDC would be converted into fiat currency and settled on Mastercard's network.