The crypto market is in a state of shock, as Tuesday proved to be a nightmare for the investing sector. Almost every major and even non-major crypto token fell sharply in the crypto market. The dip was not a casual one, as tokens fell through strong support levels.
It is reported that this hit was an ultimate consequence of the actions of Chinese regulatory authorities. Previously, they announced a crackdown on bitcoin miners and traders. Moreover, in the recent development, China has blocked several cryptocurrency related social media accounts. This added on to the misery of already struggling crypto market.
In April, the crypto boomed, as many tokens touched their all-time highs. However, since then it has been a rollercoaster for the digital currency market. World's most popular and valuable crypto token, Bitcoin has suffered a downfall of more than 50% from its record $64,000. Ethereum too, is in the $2,000 bracket after topping at over $4,000.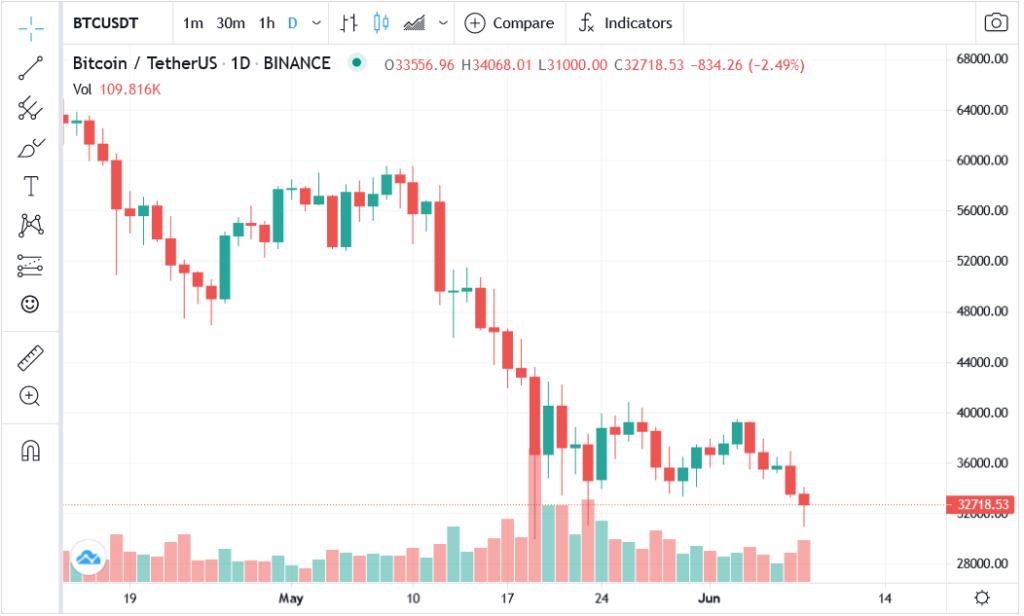 Almost three quarter of Bitcoin's supply comes from China. Thus, its efforts to curtail mining and trading activities in the region has haunted the market. Recently, Twitter accounts like Weibo were blocked by the Chinese authorities. These accounts provided crypto-related news and information. On the top of that, China has associated illegal trading and mining with the criminal law of the country. This can also ignite an even severe downfall in the worth of crypto tokens.
As a result, Bitcoin has suffered from a huge outflow of investments. In the last week, over $140 million was drained out of Bitcoin. This shows the lack of interest shown by the investors and traders of the crypto market. To add on to the woes of the market, the Bank of England announced that stablecoins should also be regulated if they are to be used in the longer run.
Latest prices and updates
Bitcoin had a strong support at the $36k level. It jumped off from there more often. However, in the last 24 hours of trading, the value of Bitcoin crashed by over 10%, and currently stands at around $32k. Furthermore, Ethereum tanked around 12% and fell below $2.500. Ripple and Cardano saw a decline of over 11% and 13%, respectively. The meme crypto token, Dogecoin also fell by 12%. DOT, CAKE, LTC, and BNB were among the other major losers in the list. The newly launched ATA also saw a shard decline after its upsurge upon listing on Binance.