The crypto market has not shown signs of stability for several weeks now. The market has gone through spells of green and red because of different internal and external factors that have influenced the performance of various digital tokens. The similar trend is being followed this week as well, as there is no such major positive development in the market forecast.
Bitcoin again below $34,000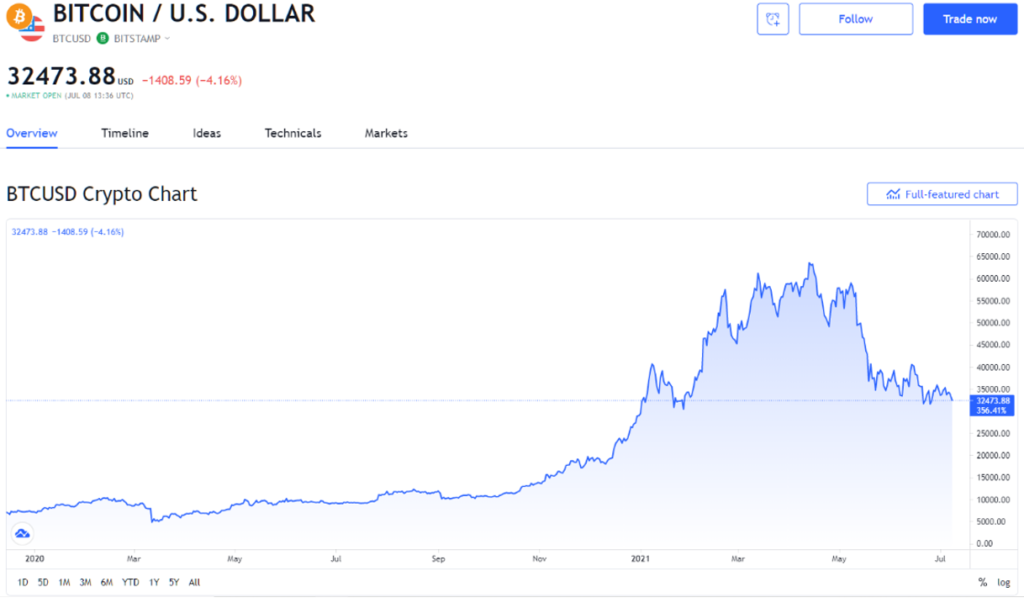 Previously, Bitcoin stormed off from the support level of $30K, and made it past the mark of $35K. Many crypto geeks were adamant that this will build a bullish run for the world's number one crypto asset. However, the trend was soon to be over, as today Bitcoin again made its way downwards. It went under $34,000, and is currently being traded at around $32,500 after shedding a little over 4%.
The support of $30,000 is proving to be immensely crucial for Bitcoin. It has helped Bitcoin to rise off from ashes numerous times. Recently, Bitcoin was able to bounce off after going below $30,000. However, it is yet to be seen how the market fares now, as the road towards $30K is continuously shrinking for Bitcoin.
Price updates of other cryptocurrencies
As Bitcoin plunged in the day's trading activity, other altcoins followed the similar trend. Ethereum did go down by around 7.50%. It currently stands at around $2,130 which is less than 50% of what it achieved in the month of May.
Many analysts do predict that Eth might go down under $2,000 once again. Even though the altcoin is projected to have a bright future ahead of itself, its current valuation is still a concerning factor for the market audience.

Moreover, Dogecoin, Cardano, Ripple, Litecoin, Polkadot, and the Binance Coin are amongst the other digital coins that have gone down in value in the recent hours. The frustrating phase of market correction has induced  negativity and panic in the market. However, traders and investors are still making money through patience and wise decisions.
On the other hand, Uniswap has enjoyed a rather bullish week. It has gone down in the last few hours but it still stands at a price that is over 10% greater than its previous week value. Uniswap is currently valued at around $20.20. However, the market is keeping a strict eye on the coin to see its potential for the future.