The cryptocurrency market contains hundreds and thousands of digital tokens that are traded on over 430 cryptocurrency exchanges. This shows that the market is expanding at a fast pace and more money is being fed to the thriving industry. However, the market continues to be highly volatile, with different coins including the leading Bitcoin experiencing extreme fluctuation of prices.
The price movement of Bitcoin and Ethereum highly influences the mood of the rest of the market. Therefore, the unpredictable market can move upwards or downwards in very short time intervals. Most recently, Bitcoin reached its all-time high but it soon tipped off and also touched a low of $45,000 before surging past $50,000. These price fluctuations are not normal but this is what makes crypto a unique, risky yet profitable concept.
What is in store for Bitcoin now?
The price movement of the leading digital coin has been extremely shaky, which is why the overall market has also lost stability and composure. There are certain crucial levels for BTC to hold so the market continues with the highly anticipated bull run of 2021. However, Bitcoin retained the support of $50,000 by closing above the mark on December 7. This has ensured confidence in the crypto community that the bull market still have something left in it.
Bitcoin is currently valued at a little over $49,200. These few days are extremely crucial for the token's performance as they could decide the future run of the coin. Bitcoin was able to cross $51,500 yesterday, but it lacked momentum therefore, it has now consolidated below $50K again. The daily and weekly closing will paint a clear picture of Bitcoin's momentum.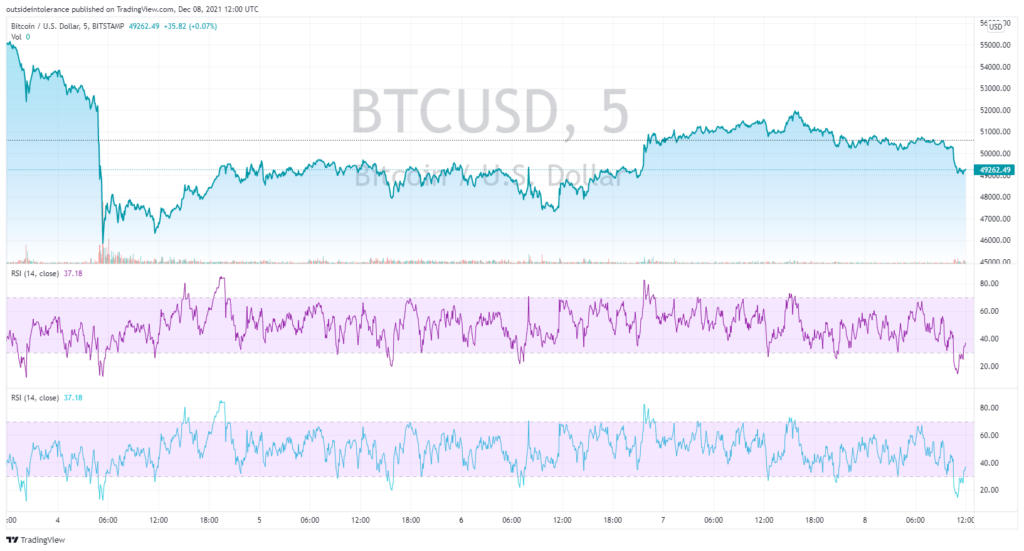 At this point, Bitcoin is stuck between a range. It has successfully retested the local support level but is not gaining enough force to fly off. The coin attracted major investor interest around $43,000 that added on to its bullish prospects. Many experts still believe that the year 2021 is moving towards a lackluster end for BTC. They believe the coin might retrace before going up again.
Experts are drawing several comparisons for the performance of BTC with its own price trajectory from 2017. Nonetheless, these comparisons are just an assumption or a prediction. On the other hand, the unpredictable market is rather unforgiving in nature as well. Staying on top of support levels could provide much-needed relief to Bitcoin and also to the rest of the market that is waiting for Bitcoin to show more clarity.