Investors have always been surprised by the volatility of the cryptocurrency market. These rapid price fluctuations influence the decision-making of the crypto community. As several coins record gains or drop in value within a short time frame, the volatile market becomes highly unpredictable and unstable for investors. Nevertheless, this characteristic makes it distinctive and appealing to people from all over the world. In recent years, Bitcoin and Ethereum have experienced astronomical price increases which shows the potential of crypto.
The digital asset market, however, is never unidirectional, since it never stays bullish or bearish for very long. Therefore, crypto investors must invest and then hold onto their investments, as patience leads them to hefty profits. Lately, the cryptocurrency market experienced a bearish pattern after a dream bull run. It was, however, just a healthy correction. 
Despite over $395B being liquidated from the market, analysts were quite sure of a strong recovery. In the aftermath, the market is now looking to recover, and several tokens are recording large gains for holders and dip buyers. While it is too early to tell if the correction phase of the market is over, the recent trends in different tokens seem to indicate that the market is turning bullish again.
Bitcoin manages to climb over $58K again
Previously, the leading cryptocurrency fell from a high of over $67K to a concerning $55K mark. People were skeptical about Bitcoin's persistent bearish trend. As the coin also sets the tone for the rest of the market. This has resulted in a recovery in the latest trading hours when it went up by about 5.25%. At the time of writing, it is trading at around $58,700, near the $59K mark.
Bitcoin remains below the crucial $60K mark, but its recovery is a positive sign for the rest of the market. The market cap of the coin is $1.11T, and its trading volume is $37.80B. The price of bitcoin remains about 7.50% lower than last week. Still, it may break through crucial resistance levels if it maintains its recovery pattern.
ETH bounces from $4,000, altcoins grow green
The price of the leading altcoin of the cryptocurrency market also rose. Following a low of slightly under $4,000, Ethereum is now trading at $4,300. Since then, ETH has consolidated by a wide margin after reaching a new ATH a few days back. The price of Ether has nevertheless bounced back from the $4K support level, and it is looking to gain some stability in its price surge pattern with a trading volume of $19.80 B. ETH is looking confident to make its way to $4,600.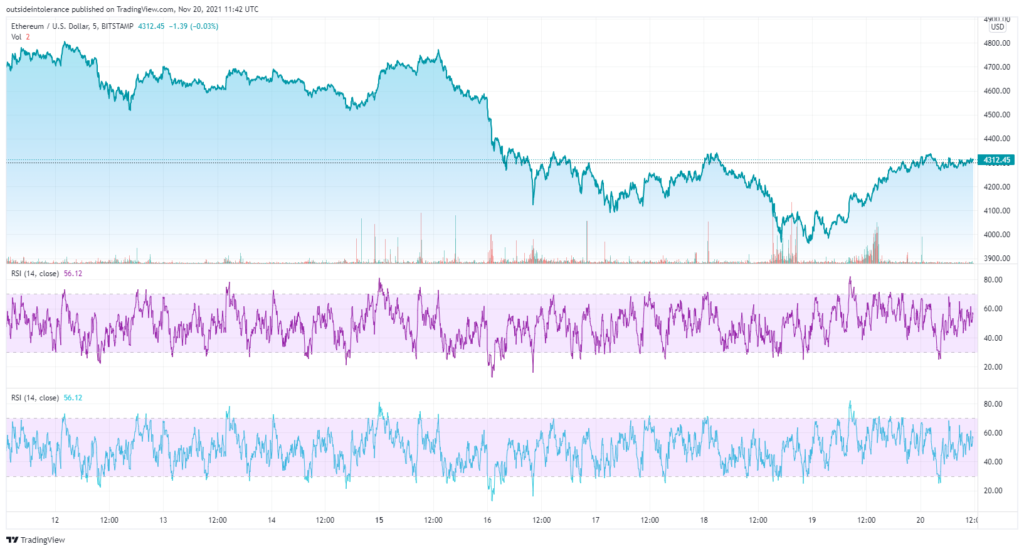 The Ethereum Killers SOL and ADA have also recorded gains of 12.65% and 6.55%, respectively. After falling to a low of under  $190, Solana has managed to rise to $218. As investors become more interested in this record-breaking altcoin, it is likely to make even more gains in the coming days. Meanwhile, ADA also hit $1.89 during recent trading hours. Despite being unable to form a decisively bullish momentum, the popular altcoin is now preparing for a potential price hike to pass through current resistance levels.
Additionally, BNB has gained approximately 11.65%. There is a strong chance that it will surpass the $600 mark as it has already reached $588. The coin's market capitalization is approaching $100 billion. Conversely, XRP is up 6.40% and DOT is up over 7.30%. The market also saw gains from LUNA, CRO, VET, DOGE, and LTC. 
Hot gainers include FTM, SHIB, and AVAX
There have been a few standout altcoins during recent trading hours despite the overall market staying green. After showing persistent bullish patterns in the past few weeks, Avalanche (AVAX) kept on adding to its dream run. It has now been joined by FTM on the bullish side. With the growth of Bitcoin, these coins are enjoying more sustainable growth patterns.
Earlier this month, at one point FTM struggled as it fell to a low of $1.85. Since the coin had reached a record high of $2.70, investors were concerned about the degradation of the coin's value. In spite of this, the coin has demonstrated a strong comeback and has gained over 20% to regain $2.22. The chart indicates the coin is rising after forming a low during the recent dip. As demand for the coin has increased, so has the token's trading volume. A strong momentum can continue to push FTM to new highs if it continues the bull run.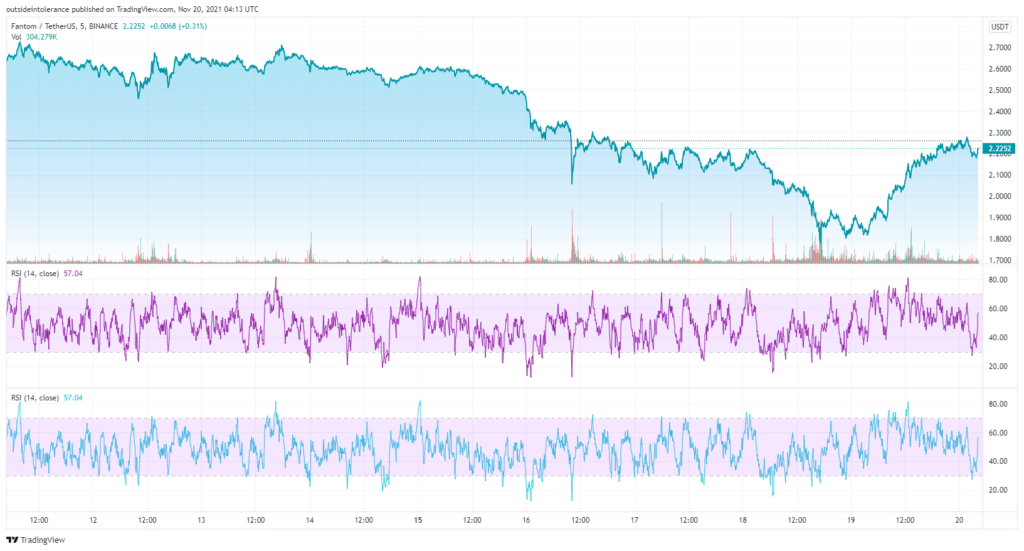 Shiba Inu is also achieving double-figure percentage gains lately, having achieved 13%. Originally it was consolidating in price, but now it has fought back and closed the gap with $0.00005. Similarly, the meme coin is performing well, but a clear breakout is necessary for it to continue its growth.
AVAX continues to be one of the top gainers. As of this writing, the coin has gained another 20%. Over the last week, AVAX has gained about 40% and reached a high of $119. It is currently valued at around $115. Throughout the market's correction phase, the coin remained bullish. Due to their consistent upsurge, the 220M AVAX coins in circulation have made a strong impact on the crypto market.