Bitcoin is the top most wanted and sought after cryptocurrency in the world. It runs the momentum of the crypto market, and has a strong impact on the performance of other coins and tokens. The influential role played by Bitcoin can be estimated from the fact that several cryptocurrencies follow a similar pattern and graph, as of Bitcoin.
Bitcoin has done enough to promote and normalize the concept of crypto in the public sector. It is one of the driving force behind the worldwide popularity of crypto. Moreover, Bitcoin reached an all-time high of over $64,000 in the first quarter of this year. This upsurge of the crypto giant was never predicted nor estimated, however, it sent the entire crypto market into a frenzy. Nonetheless, the prices of Bitcoin fell by more than 50%, severely impacting the rest of the market.
Breakout of Bitcoin
For several weeks, Bitcoin was stuck in the range of $30,000-$40,000. Even though, the $30K mark proved to be a strong support level, it was also tested a couple of times. Most recently, Bitcoin fell below $30K in the last week, and many analysts feared that it was going to crash further below. However, the digital coin made a strong comeback, and bounced off to over $40,000 within ten days. As the graph shows below, Bitcoin also faces a strong resistance level at $41,000. If it manages to go past it, a major bullish trend may follow.
The rumors of acceptance from Amazon, and its crypto-related job also prompted this increase. However, despite the denial from Amazon, Bitcoin continued its upward trend in the following days. Traders have appeared to be overly bullish in the recent hours of activity. The coin maintains a strong position just below the resistance level of $41K. The dominance of bitcoin is also increasing in the market. However, if the traders do not manage to process the price range above $40,000, then it may fall back to the support level of $36,000.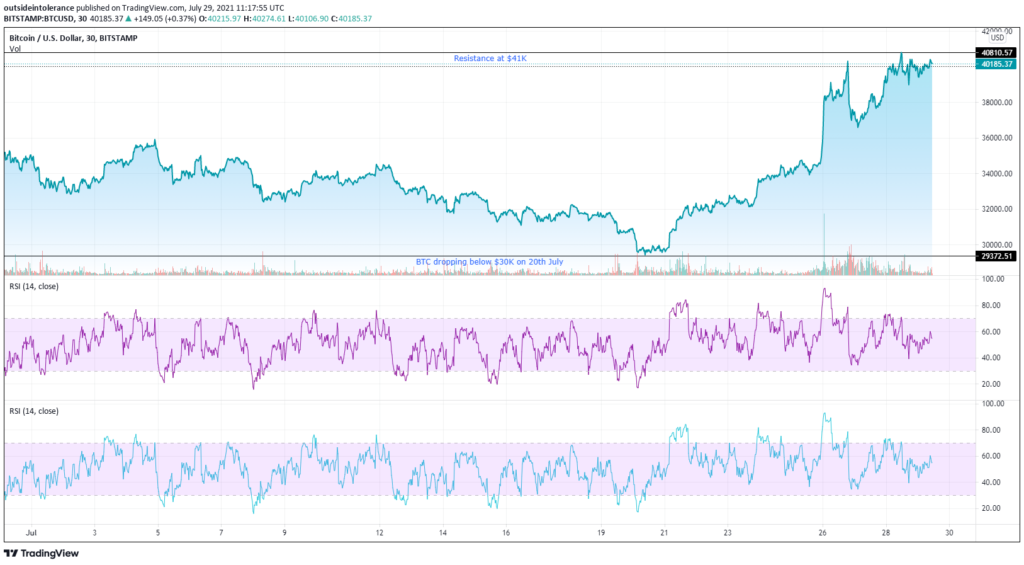 The current momentum rests with the bulls, however, even the bulls are cautious because of the extreme recent volatility of Bitcoin. Moreover, there has been ongoing FUD about the regulatory approval of Binance which might influence the performance of Bitcoin. The increase in the price of Bitcoin has also positively influenced the likes of Ethereum, Cardano, Ripple, and even the meme-token, Dogecoin. Overall, the market has fared green in these few days.