The Celsius Network, decentralised finance (DeFi) network and one of the largest crypto lenders, informed its 1.7 million customers on Monday morning that it was "pausing all withdrawals, Swap, and account transfers."
In a blog post titled "A Memo to the Celsius Community," the platform stated that it was taking the required steps for the benefit of its whole community in order to stabilise liquidity and operations while taking steps to maintain and protect assets.
Furthermore, in keeping with its commitment to its customers, the company stated that customers will continue to accrue rewards during the pause.
.@CelsiusNetwork is pausing all withdrawals, Swap, and transfers between accounts. Acting in the interest of our community is our top priority. Our operations continue and we will continue to share information with the community. More here: https://t.co/CvjORUICs2

— Celsius (@CelsiusNetwork) June 13, 2022
"We are working with a singular focus: to protect and preserve assets to meet our obligations to customers. Our ultimate objective is stabilising liquidity and restoring withdrawals, swaps, and transfers between accounts as quickly as possible," the post says.
Celsius token dropped sharply
Celsius has promised clients significant interest rates, particularly on its own Celsius coin, CEL. The price of the Celsius token, on the other hand, has plummeted in the last week. The price reduction comes as a result of the Terra collapse and the turbulence in the crypto markets.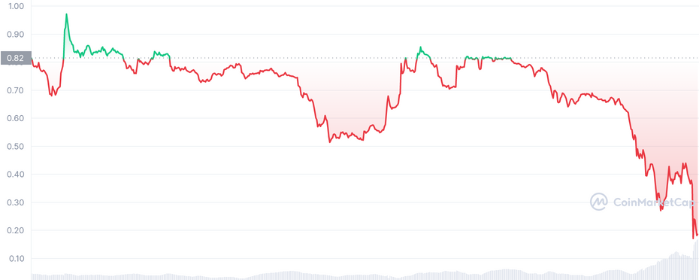 According to CoinMarketCap, the company's token, CEL, is currently trading at 19 cents. CEL is now valued 92 percent less than it was on April 8th, when it was worth $3. A year ago, the token was worth nearly $7.
The token's price has likewise plummeted by 51% in the last 24 hours, with a market valuation of 45 million dollars.
Due to regulatory pressure, Celsius discontinued issuing interest-bearing accounts to unidentified investors in the United States in April. Some market experts suggested Celsius was also responsible for the cryptocurrencies Luna and terraUSD collapsing last month, which Celsius denies.
Celsius, on the other hand, said it hoped to lift the ban on withdrawals, swaps, and transfers "as soon as possible," but that it couldn't say when that would happen. They added that their operations would continue as usual and that they would continue to share information with the community as it became available.
"There is a lot of work ahead as we consider various options, this process will take time, and there may be delays,"
it said.