A recent study conducted by Comparitech reveals that thefts of NFTs are becoming more common than they have ever been before, as well as more lucrative.
Hackers Have Stolen $86 million in NFTs
Since the first time that NFTs were made available to the public, researchers at Comparitech have been monitoring when and how they are stolen. The most recent theft was documented in early 2020. Since that time, more than $86 million has been taken, and the number of hacks is expected to significantly climb in 2022.
In sharp contrast to the decreasing amount of crypto hacks that have been registered by Comparitech, there has been a considerable rise in the total number of NFT thefts that have occurred in 2022.
In 2021, there were 14 thefts of NFTs, whereas in 2020 there were only two thefts. In all, there were 166 NFTs stolen. The remaining 150 incidents occurred in 2022, with March being the worst month for NFT owners since 31 incidents occurred within that month alone.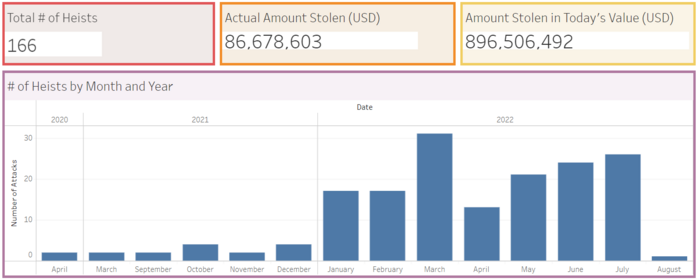 In the course of its investigation, Comparitech looked through many security analyst studies, such as those published by PeckShield and CertiK, as well as the Twitter sites of NFT companies and business publications from all over the globe. Lympo took the brunt of the assaults. In a hot wallet breach in January 2022, the Animoca Brands NFT subsidiary lost 165.2 million LMT tokens.
Next is Farmers World, which suffered attack losses of $15.7 million. In November 2021, a cyberattack on the WAX blockchain gambling platform cost over 100 million yuan ($15.7 million) in losses.
Bored Ape Yacht Club (BAYC) suffered a $13.7 million loss. A hacker gained access to BAYC's Instagram account in April 2022, and users' NFTs were taken in large numbers.
Nearly $14 million is the floor price for the NFTs that were taken. In addition, BAYC had two Discord assaults, losing $69,000 and 200 ETH, respectively.