The technological world is a hub for new innovations and inventions. Moreover, the advancement of the crypto and blockchain sector has surely impacted the technological field. Several digital firms and organizations are exploring the usability of crypto. They do not want to miss out on an opportunity to mark an entry into the highly anticipated crypto world. Opera's new Crypto Browser Project is an extension of a similar thought process.
Opera is a popular web browser that is widely used by global consumers. Its unique user interface and extensive features have made it famous among web users. In a recent development, Opera has unveiled its new Crypto Browser Project. The beta version of the crypto browser is now publicly available on Windows, Mac, and Android that delivers a Web3 experience to users. The browser is aimed at providing better functionality in comparison with a traditional or typical browser.
A Web3 dedicated crypto browser for the future
Opera announced the launch of the new crypto browser via a blog post on its official website. The web browser aims to revolutionize the experience of users by providing them with a dedicated Web3 browser. The Norway-based browsing firm is aiming to target the crypto community that is fond of decentralization. By providing Web3 services to its users, Opera will look to build a dedicated crypto community for the platform.
Previously, Opera had launched a basic Web3 supporting browser along with an integrated crypto wallet in 2018. However, the latest crypto browser is a new landmark for the company. Moreover, Opera also aims to come up with new products and features to promote the understanding and use of Web3 among crypto geeks. The browsing firm believes that it is moving to fill the void of a dedicated browser in the blockchain world.
The Opera wallet will be compatible with Polygon and Solana in the first quarter of 2022. As of now, it is only compatible with Ethereum. Thus, the edition of two popular protocols will increase its usability and interoperability. It will also offer lesser fees for users. Opera's new crypto browser will also help it lead the race against its competitors.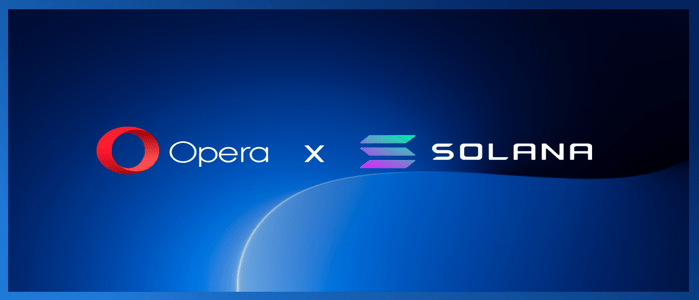 The new version of Opera incorporates new features which give users direct access to DEX, NFTs, and Dapps. While prioritizing security and transparency, Opera also supports the use of Twitter and Telegram. Moreover, users will also be to switch between applications through new tabs without actually signing into their wallets.