Earlier today, Crypto.com stated that it has acquired payment service provider "PnLink Co., Ltd." and virtual asset service provider "OK-BIT Co., Ltd.", therefore securing registration under the South Korean Electronic Financial Transaction Act and as a Virtual Asset Service Provider.
Crypto.com New Acquisitions
According to the most recent blog post published by the company, Crypto.com, a platform for cryptocurrencies, has announced that it will be making acquisitions in South Korea as part of its ongoing expansion. The company is doing this in the hope that the recent collapse of the virtual currency market can be reversed.
According to the post, the firm says it has acquired South Korean payment service provider PnLink Co. and virtual-asset exchange OK-BIT Co. in order to get registrations under the country's Electronic Financial Transaction Act and as a virtual-asset service provider. These registrations are necessary for the company to operate in the country.
Nevertheless, the business did not reveal whether or not this meant that it is now able to provide its whole array of cryptocurrency trading services in the nation.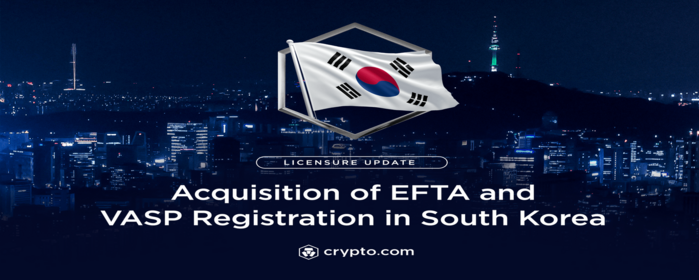 As a result of reaching this landmark, Crypto.com asserts that it is unwavering in its dedication to fulfilling its aim of being an industry leader in terms of regulatory compliance, customer safety, awareness, and protection.
Crypto.com is excited to continue to create direct relationships with South Korean users as a regulated and safe platform, and the company looks forward to doing so.
In related developments, Earlier this year, Crypto.com announced that it had been granted provisional approval for its Virtual Asset License by the Dubai Virtual Assets Regulatory Authority, as well as registration with the Organismo Agenti e Mediatori (OAM) in Italy, the Hellenic Capital Market Commission in Greece, and the Securities and Exchange Commission of Cyprus.