The cryptocurrency community is rallying behind a new initiative called Stand With Crypto, which aims to raise awareness and support for crypto projects that are facing legal challenges from regulators.
The campaign was launched after the U.S. Securities and Exchange Commission (SEC) filed lawsuits against Binance and Coinbase, two of the largest and most popular crypto platforms in the world. The SEC alleges that both companies have violated securities laws by offering unregistered digital assets to U.S. investors.
Binance and Coinbase have denied any wrongdoing and vowed to fight the SEC in court. They argue that their products are not securities, but rather innovative and decentralized technologies that empower users and create value for society.
The Stand With Crypto movement has gained traction on social media, where many crypto enthusiasts, influencers, developers, and investors have expressed their solidarity with Binance and Coinbase. Some of them have also created and purchased non-fungible tokens (NFTs) that feature the #StandWithCrypto logo and slogan.
The #StandWithCrypto NFTs are meant to symbolize the unity and resilience of the crypto community in the face of regulatory uncertainty and hostility. They are also intended to raise funds for legal defense and advocacy efforts for crypto projects that are under attack by regulators.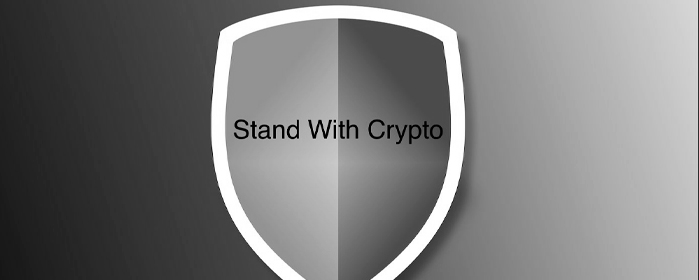 According to the official website of the campaign, #StandWithCrypto NFTs can be minted on the Ethereum or Binance Smart Chain networks, using platforms such as OpenSea or BakerySwap. The NFTs can then be traded, sold, or donated on various marketplaces or platforms that support NFTs.
The New Collection Stand With Crypto Quickly Showed Good Numbers
The collection had 140,830 NFTs at the time of writing, including one created by Coinbase CEO Brian Armstrong. 
According to OpenSea, the world's first and largest web3 marketplace for NFTs and crypto collectibles, the collection had a total volume of ETH 5, a floor price of ETH 0.0002, and 53,155 owners at the time of writing.
The collection will donate any mint fees to vetted organizations through a Crypto Advocacy Round with Gitcoin.
The website also states that 100% of the proceeds from the #StandWithCrypto NFT sales will go to a dedicated wallet that will be used to support legal actions and initiatives that defend crypto innovation and freedom. The wallet address and transactions will be publicly available and transparent.
The campaign is an example of how the cryptocurrency community can leverage its collective power and creativity to stand up for its rights and interests. It also shows how NFTs can be used as a tool for social impact and activism, beyond their artistic and entertainment value.