The world's richest man and Tesla CEO, Elon Musk, has caused a sharp increase in the price of Dogecoin, the most popular meme coin, after reaffirming his support for the meme coin in a recent tweet in response to Dogecoin co-creator, Billy Markus.
Dogecoin was created by IBM software engineer Billy Markus and Adobe software engineer Jackson Palmer. Markus goes by the Twitter handle "Shibetoshi Nakamoto," a reference to Bitcoin's pseudonymous creator, Satoshi Nakamoto.
While DogeCoin is no stranger to price spikes, the majority of them can be attributed to the actions of the world's richest man. Meanwhile, Dogecoin has now dropped more than 90% from its peak one year ago, which was triggered by Elon's tweets.
The meme cryptocurrency experienced a brief price increase after Twitter finalized its deal with Elon Musk a few weeks ago, propelling it into the top ten in terms of market capitalization before plummeting a few days later.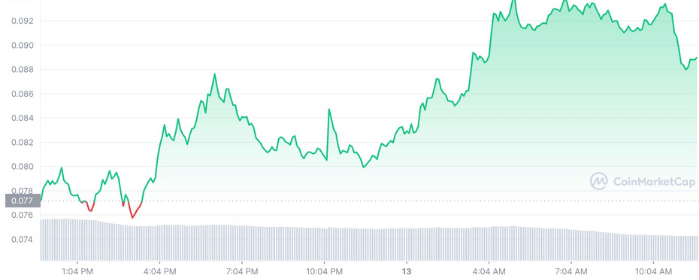 The general crypto market has shown signs of recovery in the last 24 hours, with Bitcoin, at the time of writing, adding around 10% since falling to lows not seen in more than a year, climbing back to over $30,000. Moreover, Ethereum and its main competitors have each gained reasonable percentages.
"Dogecoin has potential as a cryptocurrency"
Billy Markus, the co-founder of the joke cryptocurrency, says he likes it because "it knows it is stupid." This tweet piqued Musk's interest, and he responded that – "it has potential as a cryptocurrency."
It has potential as a currency

— Elon Musk (@elonmusk) May 12, 2022
This has contributed to the meme coin's sudden increase in the last few hours, with up to 15%,  according to coinmarketcap data.
Other than as a 'joke' and 'meme coin,' the reason for creating Dogecoin was to create a peer-to-peer digital currency that could reach a broader demographic than Bitcoin – which itself was intended as a decentralized means of exchange to compete with fiat money and the dollar as a reserve currency.
The billionaire had previously predicted, half-jokingly, that Dogecoin would become the world's currency, saying it would be "the most entertaining outcome."
Now, the meme coin has risen to the top ten, thanks in part to Luna's sudden demise from one of the top ten coins in the cryptocurrency market as a result of the crash of its sibling TerraUSD, a stable coin known as UST.