The volatile cryptocurrency market continues to send shock waves down the investing community. The big names of the market, including Bitcoin and Ethereum have tanked down significantly in the recent market hours. This degradation in value has also instigated a bearish pattern in several other cryptocurrencies as well. However, the market has not shown any certainty or conclusive trends for traders to act upon.
Moreover, September has historically proven to be a testing month for several major cryptocurrencies, mainly Bitcoin. This is why a large portion of the crypto community believes that the air will get clearer after the next week or so. Another major factor that led to the decline of several assets recently was a consequence of the latest announcement made by the People's Bank of China (PBOC). The central bank of China released a statement that it was banning virtual currencies in the country, and it was disallowing any overseas exchange to provide crypto related services to the locals.
The announcement of PBOC and its impact on major crypto tokens
Even though this is not the first time China has done so, the announcement pushed the markets lower. The announcement specifically targeted Bitcoin and Ethereum, and termed them to be illegal. As a result, both of these tokens reacted sharply to the new, Bitcoin fell by almost 10%, and Eth fell by over 12% within the next few hours.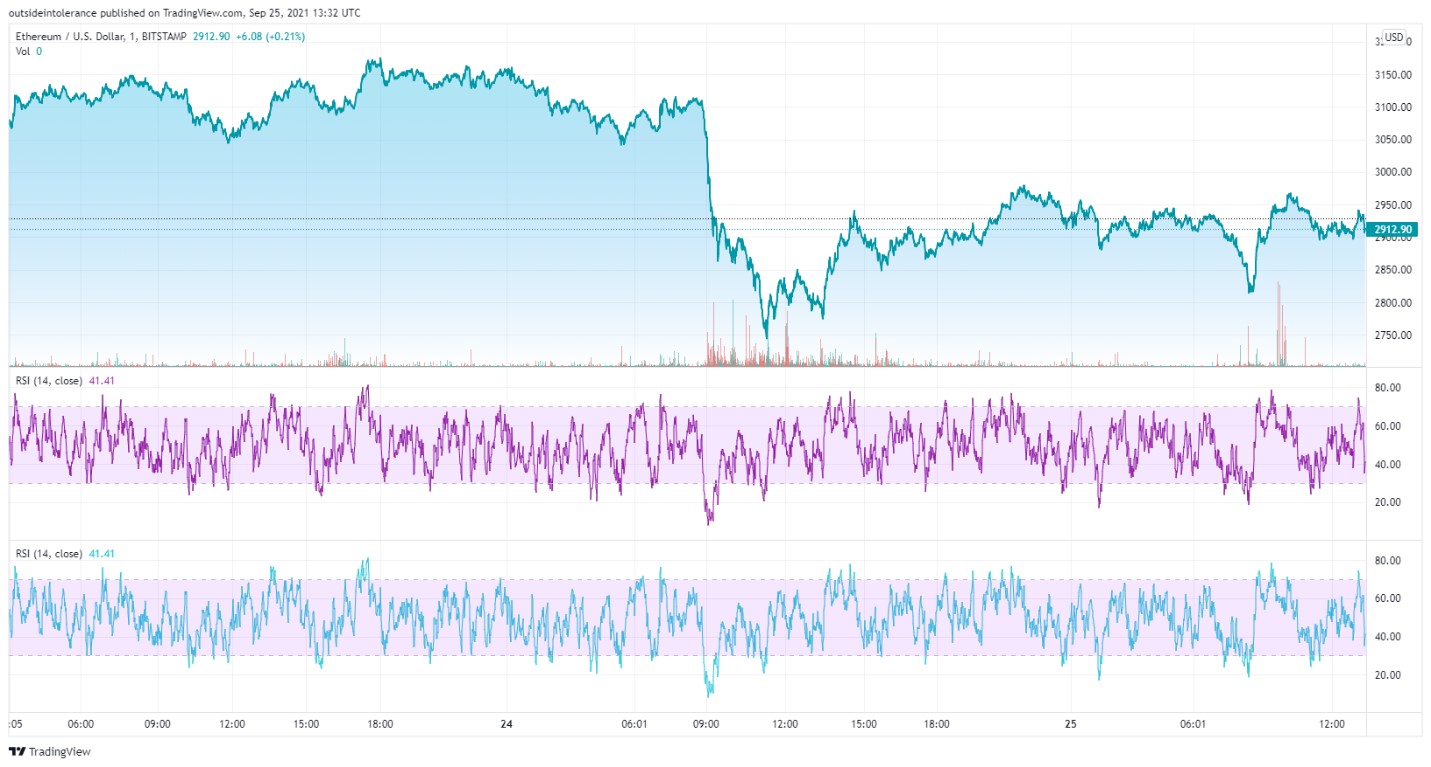 The movement of Ethereum was rather more disruptive, as it crashed through the crucial support of the $3K level. As the graph below shows, Eth reacted sharply and hit a low of $2,750 from a high of about $3,100 within a few hours. Nonetheless, Ethereum has tried to recover a bit in the recent trading hours, and has managed to go beyond $2,900 once again. At the time of writing, Ether is valued at about $2,910. However, it is yet to be seen if the coin manages to breakout of the bearish pattern, and regain the support of $3K. It is also a highly crucial psychological level for the digital coin.
Ethereum had a run of over 45 days above the $3,000 level. However, after crashing through this support level, Ethereum found a little solace from the $2,700 mark. It bounced off from that point, and has held its ground since then. For a clearer trend, Ethereum would have to go below $2,700 or over $3,150 to kickstart a bearish or a bullish pattern, respectively.