The volatility of the crypto market is a well-known concept. It is one of its main feature which poses a great potential of profit as well as a major level of risk for the investors. However, this risk is acceptable to many traders as they are willing to apply the mechanisms of risk management while taking a shot at the crypto industry.
The crypto market constitutes of a variety of crypto coins and projects. Many of these digital coins are backed by credible organizations and reliable projects. Whereas many among them are also a ponzi scheme to some degree with no proper fundamentals. Investors usually prefer the reliable projects to have a more sustainable crypto trading career. Bitcoin and Ethereum are the two giants of the crypto market, therefore, they attract the highest number of investors from all around the world.
Is Ethereum staging a comeback?
The crypto market was facing a strong bearish sentiment for a few months now. After skyrocketing in the first quarter of this month, many major and minor crypto coins fell back significantly, losing over 50% of their previous gains. The strong correction came as an ultimate shock to the crypto community.

However, over the course of last few days, many coins are turning green and regaining some stability in the market. A similar trend was observed in Ethereum as well who rallied over $3,000 for the first time since the second week of May. Currently, Ethereum is at a crucial point because this will decide its upcoming bullish or bearish trends. Also, there is a strong supply barrier for Ether at this point.
The ongoing bullish pattern of Ethereum started almost two weeks ago, and since then, ETH has staged a massive upsurge. It has showed no signs of weakness as it approached the crucial mark of $3,000. At this point in time, Ethereum is being valued at over $3,150, well over the $3K mark.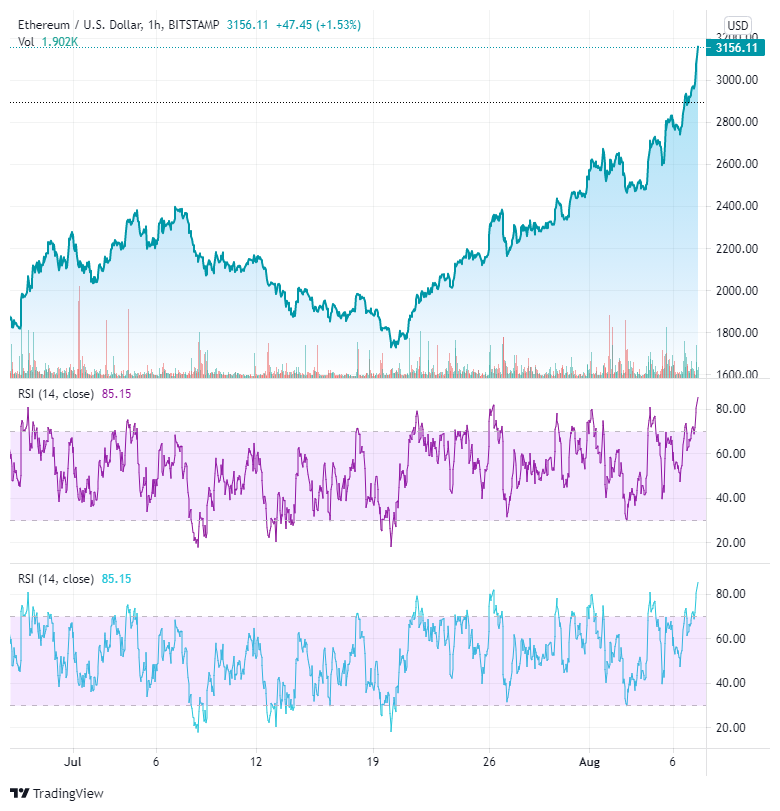 However, the next few days are crucial for Ether to decide if it will continue the bullish trend or it will experience a correction before another upsurge. Experts believe that if Ethereum breaches the $3,240 mark, then the bulls will be in a strong position to carry on with the upsurge. Otherwise, ETH can fall back to a certain degree to invalidate the bullish outlook.