The market is pumping at the weekend. Triggered on Friday, a majority of cryptocurrencies are pushing higher. Ethereum in particular has been focused at a new all-time high. At the time of press, the largest altcoin has retested its ATH of $2,190 set just a few weeks ago. A major resistance, the digital asset is trading just below this, poised to surpass it with the next upward move.
The fresh gains follow a record drop in the Ethereum exchange supply. Since the onset of the year, Ethereum exchange supply has been falling with a concern of a supply crisis. Retailers have been accumulating this digital asset with holders opting not to sell. At the same time, there has been an increased demand for the token from institutions. This has seen the increased withdrawal of Ethereum from exchanges and little deposits.
😮 The amount of #Ethereum sitting on exchanges continues to drop lower, as more and more funds move into hard wallets and #DeFi-based options. This is a good sign for $ETH holders, as less exchange supply implies a decreased likelihood of major sell-offs. https://t.co/yh2Cs0vAcj pic.twitter.com/0v2MpthGZf

— Santiment (@santimentfeed) April 9, 2021
It is set to make the existing blockchain efficient, fast and scalable. According to data from Santiment, exchanges supply is at a 28-month low ahead of this. The supply is under 19% for the first time since December 2018. A lot of the interest in Ethereum has stemmed from the launch of Ethereum 2.0. This monumental upgrade is now weeks away.
The digital asset has further proven itself to be more than a buy and hold kind of asset. Some investors have moved their coins to Defi options and Ethereum 2.0 staking for rewards options. These have encouraged investors to buy and hold as the asset shows increased value.
Ethereum Futures Surge
Earlier this week, data from Skew showed that CME Ether Futures volume skyrocketed. On Wednesday, volumes reached a record $228 million. The surge has been credited to the institutional interest which has been growing since the launch of the Futures early in the year.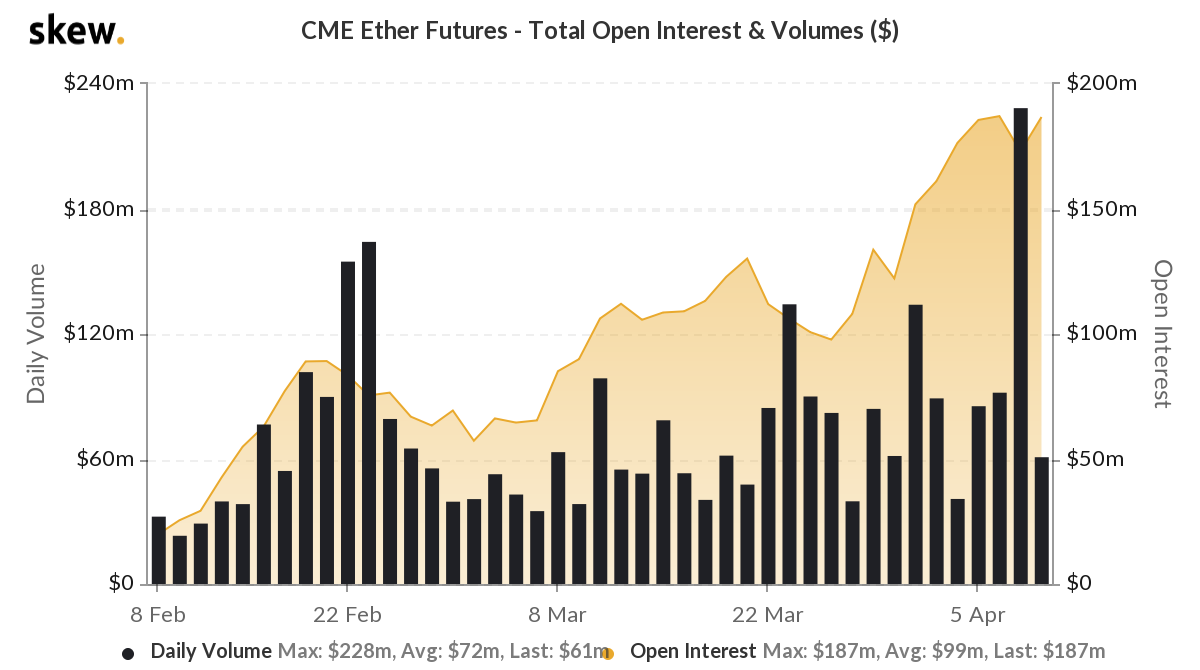 Ethereum is leading altcoins in what could possibly be the return of the altseason. Since dropping below a dominance level of 60%, Bitcoin has struggled to keep up with altcoins. Bitcoin's weekend performance- gaining over 4%, is evidence that the largest cryptocurrency in the world will not go without a fight. The digital asset is back above $60K and is poised for a retest of its ATH of $61K. Analysts note that an altseason will be triggered by a Bitcoin dominance drop under 50%. Ethereum would be a major gainer n this case with some experts suggesting prices will land between $5,000 and $10,000 by the end of the year.