Filecoin (FIL) emerges as the most trending and one of the highest-gained cryptocurrencies on the Coinmarketcap, thanks to its dramatic price increase over the past few days.
Even if a healthy ecosystem is present, it's interesting that there doesn't seem to be a compelling reason for this development. However, one must exercise caution in light of this unexpected rise, as a price correction seems to be approaching.
FIL has been mired in a low-volume, comparatively price-inactive slump for approximately six weeks. It hardly had any significant price increases until recently, when it displays a solid performance.
Why is Filecoin (FIL) Pumping hard?
According to a recent report, the venture capital firm Holon Global, which invests in digital assets, has launched three cryptocurrency funds, including Filecoin (FIL), Ethereum (ETH), and Bitcoin (BTC).
Crypto news

Digital asset venture capital firm, Holon Global Investments, has launched three new crypto funds – #Bitcoin (BTC), #Ethereum (ETH), and Filecoin (FIL) in partnership with @Gemini

— Kairos Crypto (@KairosCrypto_) July 29, 2022
It's unclear whether the sharp surge resulted from Holon Global's new FIL fund. However, such a fund would probably expose FIL to high demand and perhaps increase FOMO.
It is also apparent that the global cryptocurrency market has experienced a significant uptick over the past seven days as BTC, the market leader, surged over $24,000 after falling below that level in June 2022.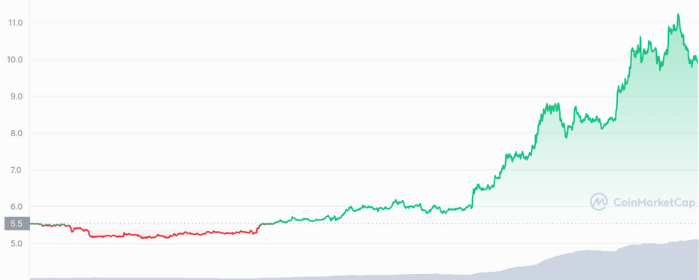 The global cryptocurrency market also recovered its trillion-dollar status after falling as low as $870 billion at the beginning of July.
Most major altcoin gains ranged from 7.6% to 15%, which is more than impressive given the circumstances. Unfortunately, there is still a lot of market resistance, therefore it is too early to call this a bull market.
It could also be argued that Filecoin (FIL) is one of the oldest projects in the crypto space, but over 80% gain in a week seems to be entirely out of ordinary.