This year has been a rollercoaster for Bitcoin and several other altcoins. Various trends were followed all through the year. The crypto market was on a record breaking rise at the start of the year, with every token reaching its all-time high. However, what followed this upsurge was a sheer bloodshed. Almost every coin shed their gains, and a severe crackdown was launched again world's largest cryptocurrency, Bitcoin.
The market struggled for over three months, as the bears grew stronger and stronger. However, the bearish trend discontinued, and the market staged a recovery phase in the last few weeks. Many coins rose and structured a bullish pattern to overcome major resistance levels. This remarkable recovery resulted in a flurry of positive news for the entire market. The market is also growing in size with more and more money flowing into the digital assets.
Bitcoin starts to recover from the Chinese crackdown
Despite the recovery in prices, Bitcoin was still suffering from the Chinese crackdown earlier this year. The hash rate of Bitcoin went down by a significant percentage, as China banned Bitcoin mining in the country, and upheld power supply to various Bitcoin mining facilities in its provinces. It was a major development as China was home to a high number of mining facilities.
The miners were fleeing off to other regions to continue with their mining operations. Even though it took some time for them to recover, they are on a charge now. Recently, the Bitcoin hash rate topped at 170 Exahashes per second which indicated that miners are getting back online. A high of 152 EH/s on August 24 is a triple of its lowest reading of 52 EH/s on June 28. This rise in hash rate has made the Bitcoin network more secure and risk-free. It will also restore the trust of users and the crypto community on the network.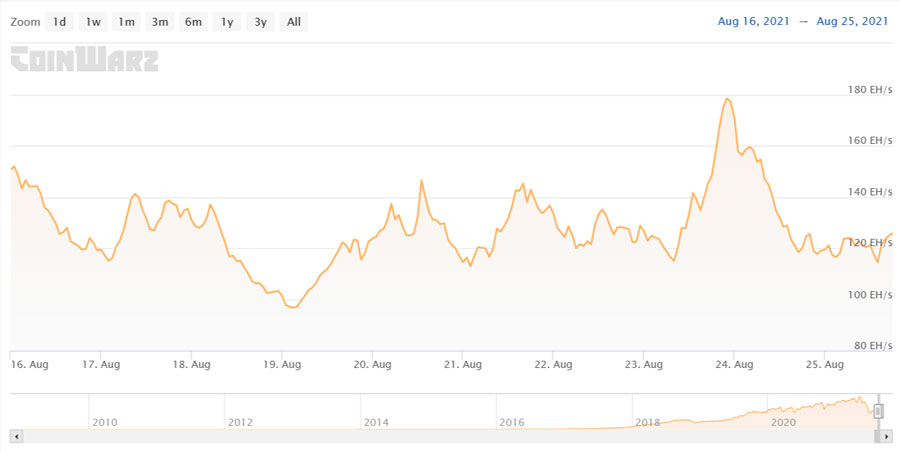 The highest average Bitcoin hash rate is 197 EH/s which was achieved on May 13. So now, after achieving the hash rate levels of early June, the Bitcoin network is targeting the May levels to add on to its recovery phase. The great mining migration from China has also helped miners from the rest of the world to cash onto the available opportunity. Hence, Bitcoin mining operations are now spread in different regions rather than being centered to only China. Many miners also made huge profits during the time when major mining facilities were offline.