Last few weeks have been considerably positive for the crypto market, as a strong bullish momentum has been observed by almost every coin in the market. The persistent green candles have positioned traders and investors at a profitable range, and people that were holding on to their assets are fetching great results now.
Since May, this is the best shape of the cryptocurrency market as assets under management have rose to a whopping $57 billion. Many tokens have made huge gains including Bitcoin, Cardano, and Ripple but Solana has experienced the largest inflows among the entire cryptocurrency market. Being a direct competitor to Ethereum, the upsurge of Solana is a highly talked upon topic in the crypto community.
Ethereum vs ETH competitors
If we only analyze the last one week of the cryptocurrency community, we observe that over $20 million of net inflows were recorded in cryptos. It took the value of assets under management to over $57 billion.
This week of inflows was the first of its kind after almost six consecutive weeks of outflows. This was a major indication towards how the market recovery phase has ended and a strong bullish momentum has been formed.
Ethereum witnesses inflows of about $3.2 million last weeks but on the other hand, its competitors were way ahead of ether. Cardano recorded $6.4 million in inflows, and Solana moved one step ahead to record $7.1 million in inflows. No other cryptocurrency token was able to record as much inflows as Solana.
Solana is projected as a direct competitor to Ethereum. The flexible infrastructure and more effective transaction mechanism of Solana is the most talked upon features of the project. This is also the reason that SOL was able to record its all-time high of $81.90 in the last week. Currently, SOL is valued right under the $75 mark.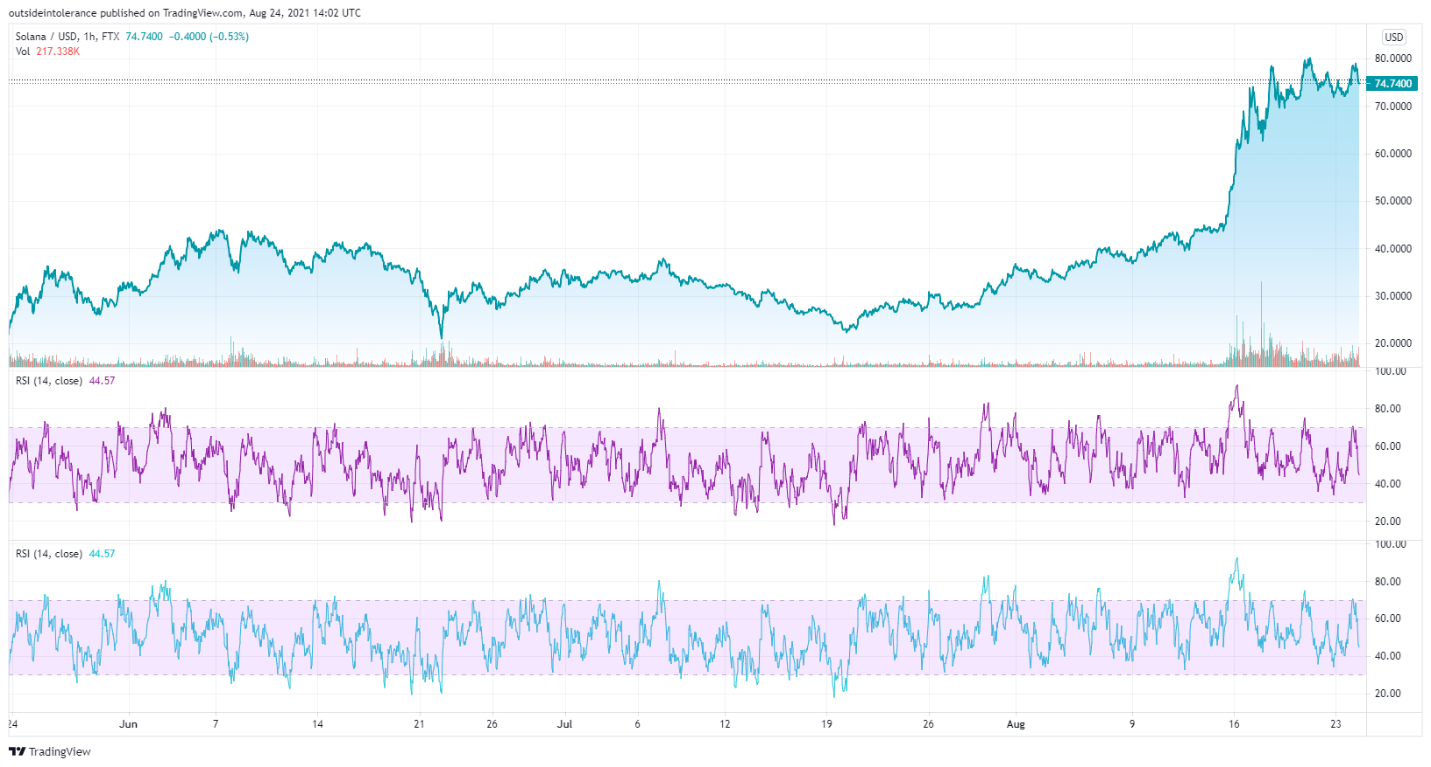 Solana's sure is reaching new heights as it is now eyeing the crucial triple figure to make new records as a project. However, it has to recover and overcome crucial resistance levels to inch closer o the $100 mark. Nonetheless, SOL may look to consolidate before structuring its next bullish rally.
The next few days might clear the fuss about the upcoming trends of SOL but it is highly commendable the way Solana has challenged the dominance and supremacy of ETH. This is a big deal for the coin, and will also help SOL to attract more users and investors to its platform.