The cryptocurrency market regularly shows glimpses of volatility in bullish or bearish market. This is why several coins have soared at different occasions. There are examples where crypto tokens even crashed significantly, proving that all is not gold in this unpredictable market. The price trajectory of the leading cryptocurrency token, Bitcoin also shows how volatility acted upon the token, prompting major price surges and price crashes, from time to time.
A similar phenomenon was observed in Litecoin. The token made a huge breakout from its local resistance levels, and posted daily gains of over 20%. As a result, the token achieved a 6-month high. This is a major development for the coin which was lacking momentum since a very long time. The overall crypto market is also riding on green candles as of now, and the market experts fear that this might lead to inflation concerns in the sector.
Meanwhile, Litecoin (LTC) has experienced an increase in value for three consecutive days. Being the 14th largest cryptocurrency in terms of market cap, Litecoin enjoys the support and interest of the investing sector. However, the recent upsurge of the coin can prove vital in triggering its price to new highs.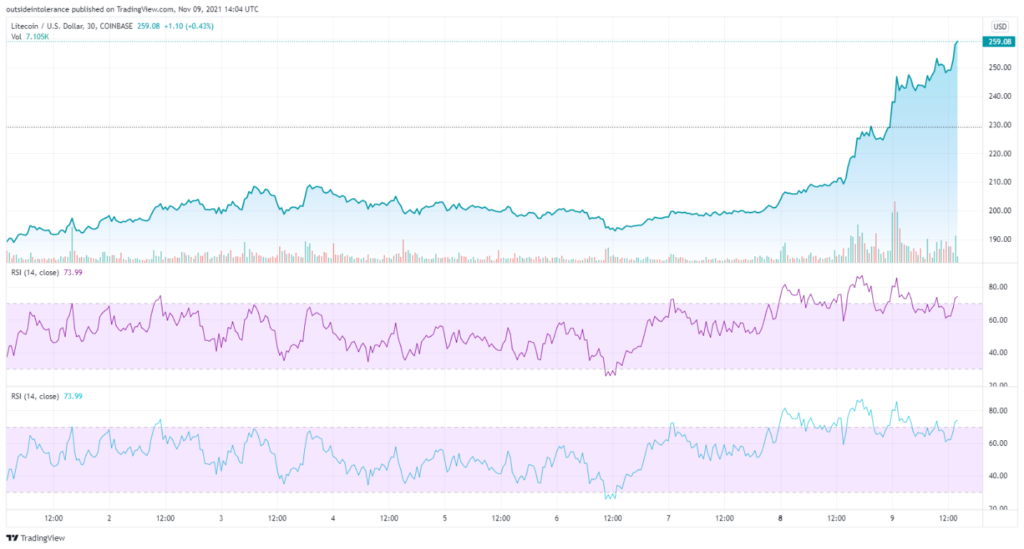 The digital token crossed the critical $250 mark in the market. Currently, the coin is being traded at just below $260. As the chart below shows, this price spike has the ability to trigger new trends for the token that was stuck in a limited range previously.
The influence of Bitcoin on Litecoin's rally
Bitcoin has always been a major influence and trendsetter in the cryptocurrency market. Being the most valuable and the oldest crypto token, it has a designated top spot in the market. However, the recent price rally of Litecoin is also believed to be a little influenced from the upsurge of Bitcoin which is already at its new all-time high.
Bitcoin and Ethereum, the top two crypto assets, have achieved new all-time high, crossing $68,500 and $4,850, respectively. However, in the last 24 hours only a few cryptocurrencies have fared better against Bitcoin, including Litecoin. The LTC/BTC trading pair has also experienced a high of over 14% in this time. Experts believe that the current position of Litecoin is quite indecisive, and it will take a few more days to mature and come up with a clearer trend.