It would seem that Bitcoin miners have capitalized on the current price increase to rake in some money. According to recent data, miners sold 5,925 Bitcoin in the most recent two weeks, which is equivalent to around $142 million.
In spite of the fact that the vast majority of digital assets on the cryptocurrency market are now trading in the red, the short increase that occurred earlier in the week prompted a significant number of Bitcoin (BTC) miners to capitalize on the chance to earn a profit for themselves.
According to the data that cryptocurrency trading expert Ali Martinez received from the on-chain analytics site CryptoQuant and uploaded on his Twitter account on August 19, Bitcoin miners did, in fact, sell 5,925 BTC over the course of the last two weeks.
When compared to its former highs, the profitability of mining Bitcoin has dropped to a rather low level. Nevertheless, when July is taken into account, August brought in much higher income for the miners.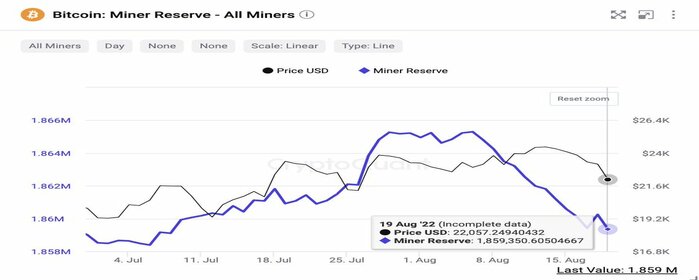 The month of June maintains its position at the top. The continuation of its preexisting concept could make it easier for the king currency to reach the heights it reached in June.
It just so happens that the latest increase in miner selling followed the mild two-month-old price upswing that was recorded on August 15.
This occurred in the face of a short-term price correction that cryptocurrency trading expert Michael van de Poppe did not see as concerning at the time.
According to statistics provided by CoinMarketCap, Bitcoin was trading at $21,460 at the time of this writing, representing a decrease of 8.6% on the day and 10.55% over the course of the preceding seven days. The current market capitalization of the most valuable cryptocurrency is $410.4 billion.