In recent market activity, the price of XLM began to rise, establishing a bullish divergence between important volume indicators while creating a higher low. The price of Stellar could go up to the highs reached on May 19 if the uptrend continues.
However, the prices of XLM are hinting at a rapid rise in the near future. On May 23, Stellar formed a local bottom at $0.338 and then another, one week later at $0.372. Stellar was the only asset that set higher lows, while On-Balance-Volume (OBV) produced lower lows, creating a bullish divergence. Consequently, the XLM price is expected to rise.
Price analysis of XLM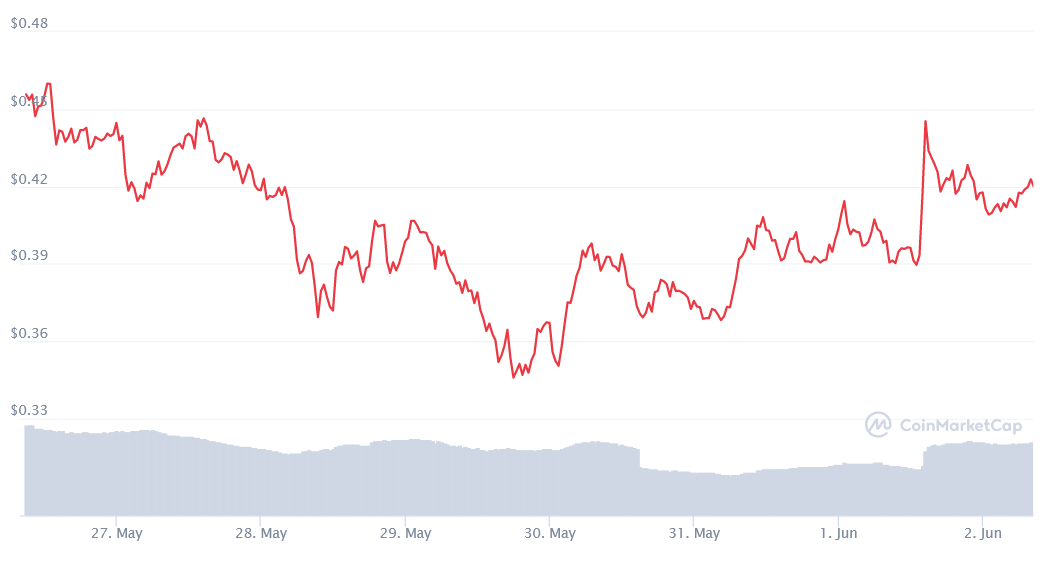 Furthermore, the Moving Average Convergence Divergence (MACD) indicator, whose fast-length moving average (12-day) is trying to move above the slow-length moving average (26-day), reinforces this bullish outlook. Such a crossover would be bullish if it occurs. The development suggests the short-term momentum for bullish sentiment is increasing more quickly, which lends credence to the bullish thesis described above. After crossing both resistance levels at $0.497 and $0.566, the XLM price seems ready to climb 55% to $0.643 under current conditions.
It will indicate a weakening of buying pressure if XLM price sets a lower low below $0.362. In the event that $0.342's support level is broken, the bullish thesis will be invalidated. Investors should expect Stellar's price to remain sideways or back up from the lows.
Technical indicators indicate that the XLM price may rally explosively after it consolidates after flashing a buy signal. An upswing begins when a critical resistance level is breached. However currently, XLM is hovering around the $0.420 mark. It is closer to the downward support level, rather than the bullish resistance. The pattern of the candles looks promising and thus, the experts are longing for a major increase in its value.
The month of May proved to be very resistant and troublesome for the crypto market. Major cryptocurrencies that previously outgrew expectations in April, saw a sudden and steep downfall in their values. We have examples of Bitcoin and Ethereum that fell a massive deal in the last few weeks. Hence, sending shocking waves to the whole crypto market. Stellar Lumens was also amongst those cryptocurrencies that suffered a major dent. It was looking to reach $1 but instead fell down massively below the $0.350 mark. Nonetheless, XLM is recovering and is expected to climb up the ladder real quick.