Several cryptocurrency projects go through phases of developments and updates, where new features are introduced in its ecosystem. These upgrades will make the network more reliable and user-friendly. Also, the native coins of these projects experience a surge in prices upon the launch of new features. SAND, the native crypto coin of Sandbox, showed a similar pattern.
Sandbox has been around for about four years in the cryptocurrency market. However, now it has announced the launch of its Alpha P2E initiative on November 29. The platform is deeply associated with the virtual world, and therefore, it has recently secured over 50 partnerships in the sector. These partnerships will help Sandbox build play-to-earn games, and as a result, the usability and adoption of SAND tokens will also increase among the consumers.
Sandbox prepares to open its own metaverse
The Sandbox network is top-rated in the NFT sector. The creators and players from the NFT community build, share, and monetize their games on this platform. They use the SAND tokens as a digital asset and a rewarding system on these games. Sandbox has also announced the launch of its metaverse. The announcement was made on the fourth launching anniversary of the platform.
As a result, the network has collaborated with several known projects of the NFT and play-to-earn industry. These include the popular Crypto Kitties, Sheep, Atari, and Shaun to build and utilize play-to-earn games on the projected metaverse.
The launch of the metaverse will be conducted on November 29 in a 3-week long event. Players and users can participate in these play-to-earn games through the Alpha Pass. This alpha pass is an NFT ticket that grants access to the exclusive launch event. Sandbox announce 5,000 Alpha passes that will give access to the content, NFT, and 1,000 SAND tokens.
SAND all set to rally in a bear market
Over the last week, SAND has experienced a massive surge in its price. SAND has been distinctive in terms of price hikes, as the rest of the market is going through a correction phase. It posted more than 75% in gains, achieving a new all-time high of $4.64. However, the coin is currently valued at around $4.26. But the outlook of the coin looks bullish, and it might be in for an extensive bull rally soon.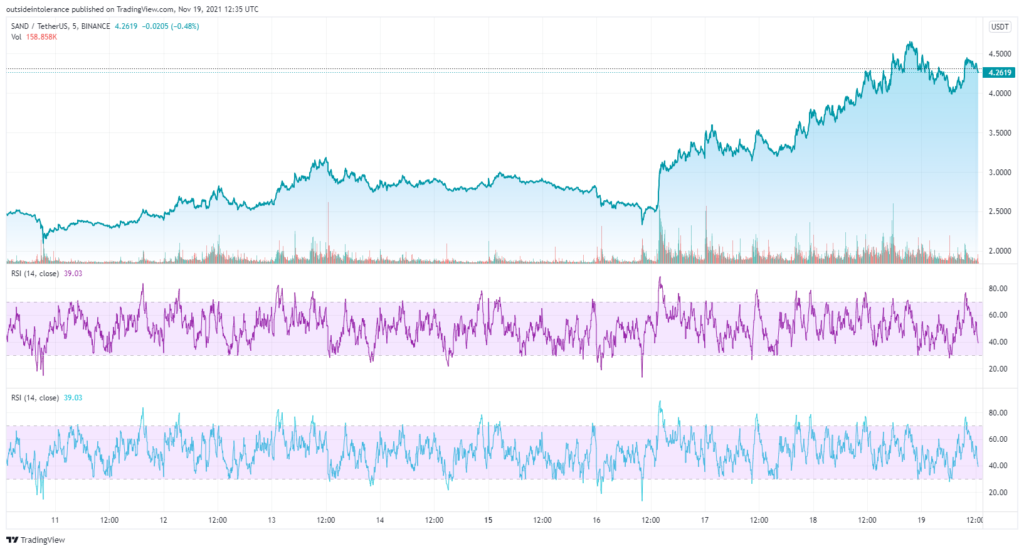 Many experts believe that the coin will cross $5 in the coming days, as the event of Sandbox is quite near. Also, investors are showing more interest in metaverse than mainstream crypto tokens, which could be a positive sign for the performance of SAND.