Over the last 24 hours, several crypto tokens and coins have amassed gains in terms of their valuation. As a whole, the market has experienced positivity and an increase in inflow from the investors. Therefore, investors are reaping profits after a prolonged unstable market. A similar trend was observed in the prices of Shiba Inu and XRP.
Both Shiba Inu and XRP have struggled massively as they shed over 50% of their valuation in the market in the last few months. However, both of these coins are experiencing increasing interest from the crypto community with their recent performance. Shiba Inu and XRP have gained over 30% within the last week. The weekly price gain shows how well these digital assets have fared lately.
What is driving the prices of Shiba Inu and XRP?
Shiba Inu is ranked at #13 in the list of top cryptocurrencies in terms of market cap. Even though the token is termed as a meme coin, its performance over a yearly basis has been outstanding. Also, Elon Musk has fueled the growth of the coin. Many early investors have earned hefty profits from the coin's rise. However, SHIB was struggling to make gains before its recent breakout.
Shiba Inu has gained over 45% in the last 24 hours. Its weekly price gain in percentages has reached a whopping 58.50%. The market cap of the coin has moved up to over $18.54 billion, and its trading volume is at the $5.42 billion mark. The coin is valued at $0.0000338. The rise of Bitcoin has helped the coin to grow lately. Also, short-term and small-scale investors are eyeing profits from the coin's rise.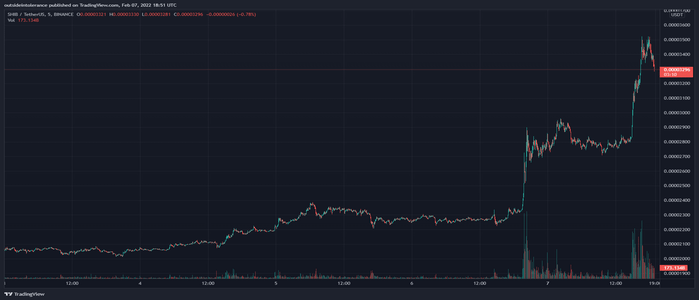 On the other hand, XRP has had a much-needed breakthrough in the market. It has been struggling for quite a while and has stayed below the $1 mark. Ripple's case in the US courts is a major factor for its stagnant prices. However, the team at Ripple believes that they have the case under control. They are also planning to introduce new features in new collaborations. This is a major reason for the rapid increase in XRP's price.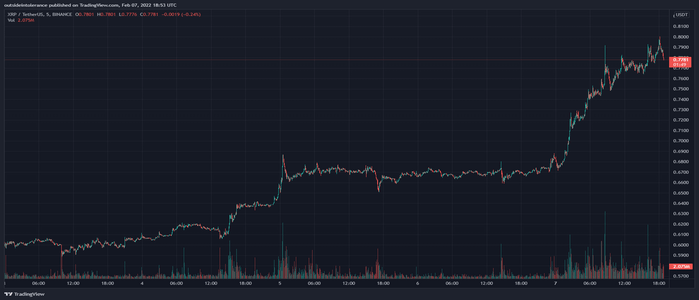 At the moment, XRP is valued at $0.77 with an 18% daily increase and a 30% increase in terms of its weekly price. The growth of the coin is also reflected in its daily trading volume and overall market cap. The growth of Shiba Inu and XRP is luring more investors and traders to the tokens.