The Solana ecosystem has experienced the collapse of an algorithm stablecoin, as attackers stole $3.5 million from Nirvana Finance, forcing its Defi-protocol token, ANA, and the NIRV stablecoin to lose 90% of their value.
The attacker used a $10 million USDC quick loan to further issue an ANA for a comparable sum of money in order to continue the attack.
#PeckShieldAlert Seems like @nirvana_fi exploited @peckshield
Exploiters already bridged stolen funds to Ethereum 0xB9AE2624Ab08661F010185d72Dd506E199E67C09 https://t.co/xsByVkbWKi pic.twitter.com/hXWuLgnViZ

— PeckShieldAlert (@PeckShieldAlert) July 28, 2022
A different Solana-based protocol called Solend served as the loan's security. The hacker then went on to increase the price of ANA so that $10 million in ANA could subsequently be exchanged for $13.5 million. Afterwards, the exploiter sent the gains to an unidentified Ethereum wallet after paying back the initial $10 million loan, and then converted the money into DAI.
NIRV crashes to $0.1
The stablecoin, NIRV, is down 86.22% in the last 24 hours and is currently trading at around $0.13, according to the data obtained from Coinmarketcap. Also, Nirvana (ANA) token is down 81.92% in the last 24 hours, currently trading at $1.57, crashing from $8.74 recorded in the last 24 hours.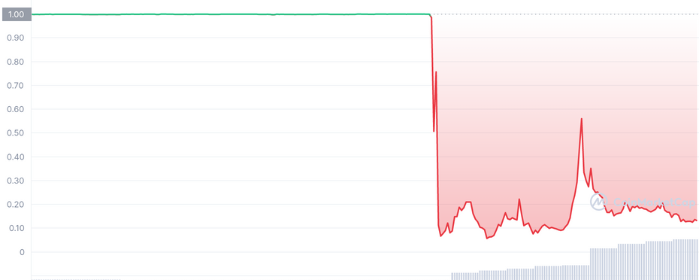 Trading features had already been disabled prior to Nirvana Finance making a statement about the situation. The protocol's users themselves call on the creators to come out of "nirvana" and offer explanations.
Nirvana said in a tweet that the band's platform had been maliciously hacked and that the reserves had been taken.
"A flash loan attack was used to steal money. This is not the fault of Solend, but an exploit of Nirvana's program," Nirvana clarifies on Twitter.
They, however, added that the team is looking into the attack and would inform the community as soon as possible.
The Nirvana protocol suffered an exploit today.

The Nirvana team is investigating the attack and will make an announcement to the community as soon as possible.

— Nirvana Finance (@nirvana_fi) July 28, 2022
Particularly in 2022, the current economic environment has proven to be very difficult for the cryptocurrency sector. We have seen enormous issues at crypto-focused platforms like Celsius, BlockFi, Voyager, and Nexo in just three months, along with FUD on USDT collateral.
Other major issues include the partial de-peg of the USDD and USDN and the multi-billion dollar collapse of Terra with its LUNA and UST.