There are several cryptocurrencies on the market that have performed exceptionally well over the last year or so. Terra (LUNA) is one such name that has attracted more and more consumers to its blockchain protocol. Investors have also shown more interest in other Ethereum rivals like SOL and AVAX. All three of these tokens rose when the rest of the market struggled.
Terra is a decentralized payment network. It has now become the second-largest blockchain for DeFi protocols in terms of the total value locked (TVL). Terra is only behind Ethereum in TVL, as it overtook the Binance Smart Chain (BSC) this week.
Terra now has over $20 billion in TVL
The DeFi ecosystem of the Terra Blockchain has recoded a new high of about $21 billion in TVL. This shows that a remarkable year for Terra is set to end on a high, as the blockchain has experienced growth all through the year. The statistics from DeFi Llama show that Terra now has about 13 projects that lock the TVL.
It now has $1.6 billion locked per protocol on average, as compared to $73 million per protocol of BSC. However, Ethereum stays on top with over $152 billion in value locked on 361 protocols. The blockchain has experienced a surge of over 42,000% as compared to December 2020 when it only held $42 million in value.
The leading project on Terra is Anchor (ANC) which has about $8.98 Billion locked in value. It is followed by Lido (LDO) with $6.33 Billion and then Terraswap with $2.12 Billion. Terraswap grew by about 81% in the last seven days. These statistics show that Terra has experienced commendable growth lately. From only $11 Billion in TVL on December 14, it has touched $21 Billion.
The growth indicates that there has been more activity and usage on the Terra blockchain. Also, the value of Terra's native coin, LUNA has increased majorly. It has experienced an increase of over 130% in the last month, reaching the $100 mark. At the time of writing, LUNA is valued at $95.80.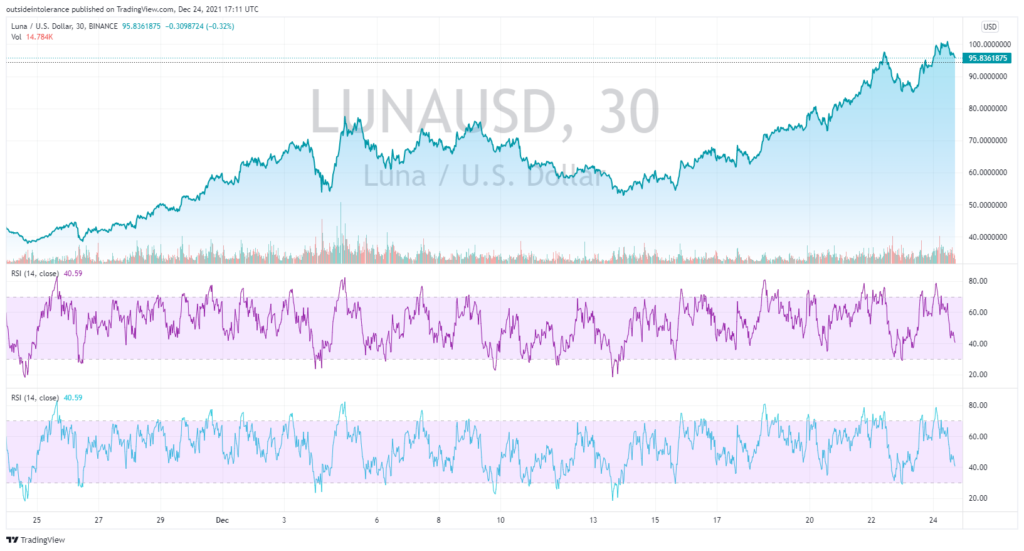 In the blockchain ecosystem, TVL determines the success of a project. High values make it more lucrative for consumers and investors. TVL is also important for users interested in play-to-earn games and NFT collectibles. Blockchain protocols like Terra, Avalanche, and Solana have made significant gains in their TVL figures. However, BSC and Polygon have faced a downtrend.