The cryptocurrency sector is spreading its wings across the globe. Innovative and advanced features are now being incorporated into new blockchain projects. The only way for blockchain projects to succeed in a competitive market is by being innovative. A lot of attention has been gained by blockchain projects, such as Yearn Finance (YFI). This is largely due to their user-centric policy implementation.
The Yearn Finance ecosystem is supported by its own native coin, YFI. YFI has reached new highs in recent days. The Yearn network is built on the Ethereum network. Assets can be repossessed and disposed of on the network. By adding this new element to a blockchain network, consumers have been attracted and engaged to the protocol.
YFI continues its upscaling in a bearish market
A total of $5.5 billion has been locked up at YFI. With its position as an aggregator of digital assets, it has gained respectable recognition. The coin is now rising at a time when the rest of the market is suffering from persistent bearish trends. Within the last 24 hours, YFI has accumulated over 25%. Yearn has doubled in price this week, showing the token's success.
YFI had previously reached a high of $82,600 in May. By mid-December, it was trading at about $19,500. Recent price increases have pushed the coin's price over the $35,000 mark. The current value of the coin is around $34,500. The token's market cap is at $1.26 Billion and its trading volume is at $534 Million.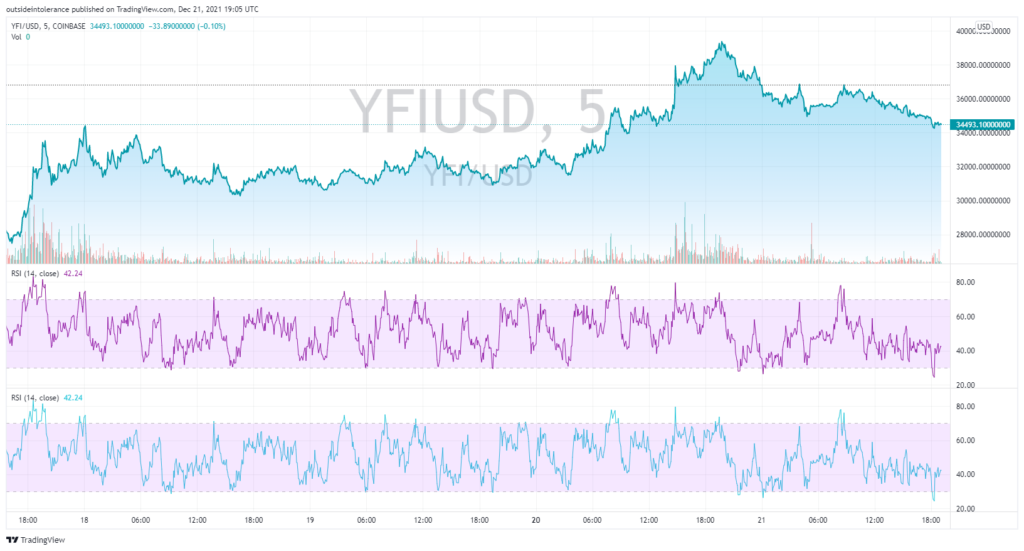 Yearn makes changes to its tokenomics
This price surge is believed to be caused by the new tokenomics introduced by the Yearn Network. Community members are currently discussing the proposal, which remains in the mandatory review phase. Despite not yet qualifying for formal passage, the proposal has received attention from members of the YFI community.
There are four phases to Yearn Finance's proposal for changing tokenomics. Yearn suggests that the network buy back some YFI tokens. Token holders and network contributors will then receive these coins as a reward. Yearn bought back YFI tokens worth $7.5 million originally on the open market. Second, the blockchain network offers four ways to reward token holders who lock their tokens.
The Yearn Developers will also be able to introduce their own new features. Finally, the proposed changes will limit Yearn Governance. In this proposal, key changes are directed at rewarding network contributors and holders. As a result of this plan, there will be more YFI tokens locked up, causing a scarcity of tokens. Token scarcity leads to a significant increase in the price of coins.