The crypto markets are in a slump today, despite the Fed's decision to pause its interest rate hikes yesterday. The markets were caught off guard by the Fed's updated dot plot, which showed a higher average terminal interest rate for 2023 at 5.6% instead of 5.1%.
Fed Chair Jerome Powell said that most FOMC members think more hikes are warranted. This has also affected Tether's stablecoin, USDT, which is facing price pressure at the moment.
The value of USDT has slightly deviated from its intended parity with the US dollar at the time of writing. On Binance, one USDC could buy 1.0030 USDT. The main cause of this seems to be the imbalance in Curve's 3Pool, which is a prominent pool for trading stablecoins in the decentralized finance sector.
Tether (USDT) Drops Below $1
Currently, USDT makes up 73.79% of the Curve 3Pool, while DAI and USDC account for 13.05% and 13.16% respectively. It appears that users are swapping millions of USDT for the other two stablecoins, USD Coin (USDC) and Dai (DAI).
The optimal balance of the Curve 3Pool should be 33.33% for each of the three stablecoins. Due to the discrepancy, USDT is currently losing its peg.
According to a report by Chinese reporter Wu Kelin, Aave V2's USDT loan interest rates have soared, including deposit interest rates exceeding 20% and loan interest rates exceeding 30%. Some big whales borrow USDT on Aave and sell it on DEX such as Curve.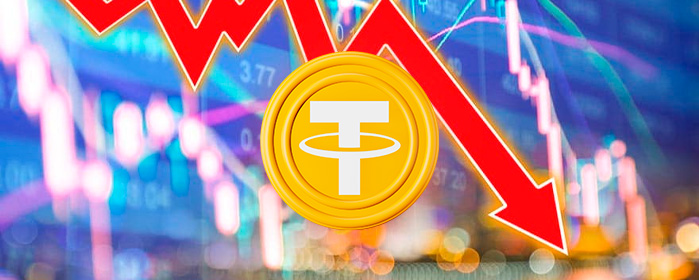 One of them is the Ethereum whale @samczsun. He used 17,000 ETH and 14,000 stETH as collateral, borrowed 31.5 million USDT from Aave V2, and then exchanged all the borrowed USDT for USDC on 1inch. The borrower then deposits 10 million USDC and 21 million USDC into V2 and V3 respectively. The guy borrowed another 12 million USDT from V3 and deposited it into V2.
Despite the recent market turmoil, Tether CTO Paolo Ardoino remains confident. He tweeted that "markets are nervous these days," but added: "We are prepared for any challenge at Tether. Bring it on. We are ready to redeem any amount."
Markets are edgy in these days, so it's easy for attackers to capitalize on this general sentiment.
But at Tether we're ready as always. Let them come.
We're ready to redeem any amount.

— Paolo Ardoino 🍐 (@paoloardoino) June 15, 2023
In March 2023, USDC and DAI both surged to more than 45% of the pool's value, leaving USDT behind. This was likely due to a spike in demand for these coins in the DeFi space. Similarly, in November 2022 and May 2022, the pool experienced an imbalance when FTX and Terra, two platforms that use USDC and DAI, faced major issues and lost market share.