The native token of the decentralized cross-chain staking platform Ankr has seen a massive gain in the last 24 hours, thanks to the release of Ankr 2.0 and a strategic investment by Binance Labs.
Ankr is a well-known provider of Web3 infrastructure whose protocol operates in the background but makes it possible to use decentralized applications, wallets, and crypto-based games by linking them to the blockchains with which they must communicate.
ANKR secures strategic investment from Binance Labs
This strategic investment from Binance Labs, a branch of one of the largest cryptocurrency exchanges in the world, will help Ankr in its objective to democratize the industry and draw more individuals into the crypto space.
Additionally, the funds will be used to expand its Web3 developer suite and expand its RPC service. This contains Application Chains as a Service, Web3 Gaming SDK, and Liquid Staking DK.
However, there is no information available regarding the precise sum invested.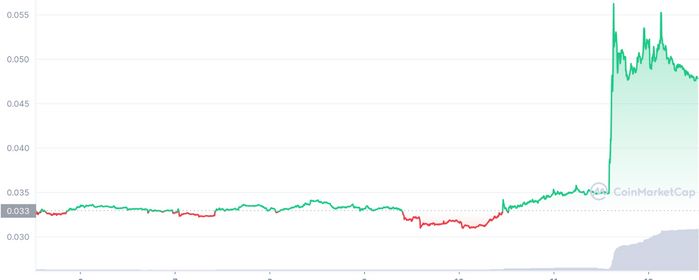 Ankr's main goals are to make Web3 easily accessible and to boost the effectiveness of blockchain infrastructures. The cryptocurrency can be used for decentralized app development, payments, governance, and staking. Ankr supports more than 40 blockchain development and staking protocols.
ANKR Token Staking Went Live
Binance invested in Ankr a few days after the protocol disclosed that the Ankr 2.0 upgrade and token staking had been made possible on its infrastructure level.
1/ 🎇 We are more than excited to introduce you to our most important release of 2022.

✨Ankr 2.0✨

👀 Including $ANKR Token staking

🧵Everything you need to know below pic.twitter.com/AeUCXhkLDU

— Ankr (@ankr) August 9, 2022
Now, every ANKR token holder has the opportunity to directly participate in the creation of Web3 platforms. All of this is a result of the introduction of ANKR token staking. The network's most recent upgrade represents an exhilarating paradigm shift.
ANKR is presently trading on Coinmarketcap for $0.048, with a 24-hour trading volume of over $890 million. At press time, the market capitalization is more than $460 million.
The project was introduced in 2017 as a cross-chain staking-capable Web3 platform and Defi infrastructure built on blockchain technology.