Once again, several factors have collectively contributed to the plunging crypto market. Plagued with the lack of momentum, the cryptocurrency market suffers from a deadlock. The global cryptocurrency market cap has downgraded by 1.58%, falling to $1.78 Trillion. This bleeding market cap shows how the crypto space has struggled to maintain its composure.
Bitcoin has failed to regain the $40K mark. This value holds psychological importance for investors and the rest of the crypto market. However, the leading crypto token is currently meddling with its six-week low. Bitcoin is currently below $38,800. It has lost almost 6% in the last seven days. Despite retesting $40,000 on Tuesday, BTC has fallen below $39,000.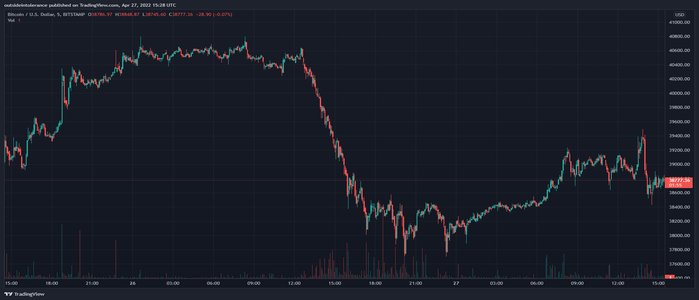 Factors Responsible for the Crashing Crypto Market
In a recent development, Russia has announced to suspend its gas supplies to Poland. This indicates that the war between Russia and Ukraine could gain more pace. Anticipation of worsening global circumstances has had an adverse impact on the crypto market. Moreover, this news came at a time when BTC was trying to rise and hold its value above $40K.
Previously, the news came that US-based financial services firm Fidelity Investments plans to allow Bitcoin in their 401(k) retirement savings plan. The firm might introduce this feature towards the end of this year. This news had a positive influence on Bitcoin's market performance. But this positivity was immediately countered by the developments of the Russian invasion of Ukraine.
In addition to this, investors are also staying cautious because of the anticipated tightening of crypto regulations from the central banking authorities. Also, the use of Bitcoin as a legal tender in El Salvador is receiving an underwhelming response. Research has shown that people avoid using Bitcoin in El Salvador. Even though the country's law encourages them to use Bitcoin, citizens are reluctant to do so. According to an estimate, only 20% of firms accept BTC in El Salvador.
Another reason contributing to the crashing crypto market is its correlation with the Stock Market. Experts believe that the stock market is struggling, and it might soon fall into a deep correction phase. Therefore, it could pose a possible threat to the cryptocurrency market in the coming weeks.
Ethereum and several altcoins have shed a significant portion of their value, apart from Bitcoin. Many tokens are lingering around crucial support levels. Therefore, another triggering factor might push the market into more trouble. Thus, the next few days are critical for the digital asset industry.