On-chain data reveals that the world's biggest stablecoin, Tether (USDT), as well as the second-largest USD Coin (USDC), have both been subject to significant levels of whale activity.
These trades indicate that the next period will be fraught with significant volatility. Following the weekend's volatility, on-chain data company Santiment shows that whales had been active so far today.
According to the report, the cryptocurrencies USDT and USDC are among the assets that are seeing a surge in transactions of $100k or more by whales. Since significant buying power is shifting, significant market movement is likely to persist.
According to Santiment's data, the whales had the ability to influence the price of ETH by depositing the token into exchanges and selling it at certain moments when the prices were high.
There is a possibility that similar whale movements may offer indicators of another positive market trend. It's possible that whales are searching for liquidity, which is another reason they would be moving enormous quantities of cryptocurrency assets to centralized exchanges.
The present rise in the number of addresses is seen as a positive indicator by Santiment since it coincides with Bitcoin's entry into an uptrend, which was caused by the expansion of the USDT supply on whale addresses.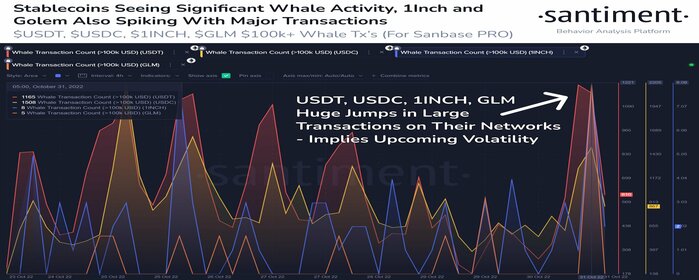 Moreover, this upswing was caused by the current increase in the supply of addresses.
Within the last 30 days, the majority of the transfer volume for stablecoins was handled by USDC. Tether finished in third place in the measure since it was also overtaken by DAI, which is an algorithmic stablecoin that is created by the protocol MakerDAO, which is based on Ethereum.
How Tether's Tussle With DoJ Is Going
According to Bloomberg, a criminal investigation into whether or not Tether's leaders committed bank fraud in the stablecoin issuer's early days has been reallocated after months of inactivity.
Bloomberg cites persons familiar with the case in reporting that U.S. Attorney for the Southern District of New York (SDNY) Damian Williams will now head the DOJ investigation.
Tether responded on Monday with a blog post, saying it is in constant communication with law authorities and is assisting with some of the largest cybercrime and national security investigations in the country.